Formby Hall Golf Resort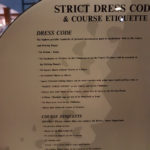 In some venues we have the honour of performing at  bespoke, prestigious, grandeur, distinguished and esteemed venues. We have been lucky enough to have travelled all over the world with our music and performed in some very nice venues. I think the House of Blues in Chicago was the biggest one. It's totally different from street entertainment. You know the type where someone at some point in their lives makes you feel like a first class respectful citizen. Tonight Andy had no choice but to remove his little white ankle socks it was part of the dress code you see.
Such is the case here, the venue; Formby Hall Golf Resort in well, Formby. An eccentric character and successful Yo Yo champion extraordinaire Don heard us busking in Ormskirk. Don invited us along to play for the annual Captains Dinner at Formby Hall Golf Resort.
Let me tell you about Don. He is in his early 80's and neither looks nor acts like it. Don can be seen at various spots with his green bucket in the local area raising money for charity. His amazing effort of fundraising has nearly reached the 200k mark. Don is a real character and is the type of person you could spend hours talking to. On the night he was telling us he used to be homeless at one point. He said he was a good for nothing nobody until his wife rescued him and helped turn his life around. He describes her as his rock and was given the opportunity to work in a card shop.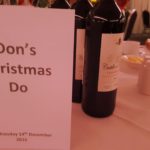 To cut a long story short he became a successful card shop owner. He built the businesses up and then sold them for a small fortune. He then he informs us that he is a UK Yo Yo champion. Its extraordinary a Yo Yo champion of all things.
A friendly and generous man he hosts the annual event himself. He's calling it Don's Christmas Do, The upstairs area of the hall is reserved for the Captains Ball. Around 20 – 30 tables especially prepared and laid out for the evenings meal. The special lighting in red and white supplements the decor perfectly. Don said if we needed anything to just ask. He told me "wait there a minute". On his return he handed me a beautiful pen set. The pen sets were gifts he was giving out to the ladies this evening and told me I was no different. "Every lady must receive one" he exclaimed. Such a sweet, sweet thing to do.
He then handed us the envelope with our payment in and said "I've stuck a bit extra in there, you deserve it". Like a whirlwind of energy he said "now have you eaten? Let me take you to the restaurant, come on follow me". We followed him down to the restaurant and swiftly through a short cut in the bar (the bar staff were looking at us as if to say, who the hell are you?). He then whisked us over to the server. Talking to the server he said "Now, these people are very important, they are in the band and please give them anything to eat or drink and stick it on my tab". Thanking him he told us he would meet us upstairs in a short while and to enjoy our meal.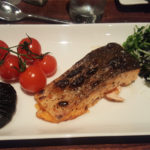 So they prepared a table and we fine dined together. Obviously we didn't want to take advantage of his generosity and didn't order the most exquisite thing on the menu (steak or lobster), but the food we did order was divine and just enough to keep us going. Formby Hall Restaurant is one of those places where the more you pay, the less you get. Although every fork full is sublime. It was also surprisingly filling. I don't like to eat too much before a performance as it makes it difficult to hold the notes with a full tummy. It was the perfect amount in beautiful surroundings.
At times like these you can't help but think how blessed we are. It may be the norm for some people but when you've lived off bananas and noodles whilst sleeping in a van it puts things into perspective. You have to experience the rags to appreciate the riches.
We discussed how much we love our jobs as we have eaten in some of the finest restaurants throughout the world and also stayed in some of the finest hotels. It's usually through the generosity of other fortunate people who appreciate live music and want to let us know how appreciated we are. Its quite a humble experience.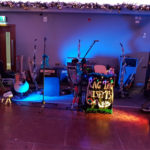 It keeps us going especially when there are times when performing on the street and you are stone cold or being baked in the ruthless sun. When the rain is pouring and chilling you to the bone. Being called names on the street by people who need a slap or perhaps just educating. When people shout at you "get a real job" or throw things at your head. We've experienced being first class citizens to second class citizens within days of each other and it truly fascinates me.
We've learnt that its only a small minority of the population who will put you down; but the scars can stay with you. We have nothing to prove to anybody and just think to ourselves if only you knew. You may ask "why do we do it then?" Well firstly music is probably the only thing were half decent at, I couldn't imagine either one of us doing anything else. The thought of sitting at home waiting for the phone to ring depresses me.
When we can't go out performing it gets us down. Listen to the words of Sister Sledge "Lost in Music" One of my favourites and the song sums it up beautifully. Not to mention the sweet guitar sounds of Nile Rogers. Simply put we do it to bring a little moment of happiness into the world and to give us wonderful opportunities such as tonight with hopefully many more to come.
After dinner it was time to go back upstairs to rendezvous with Don. As we were approaching 9pm we noticed that the mains were still being served. We were scheduled to start at 9pm but it was looking more like 10pm. You get to know these things; timings always run over when dinner is involved.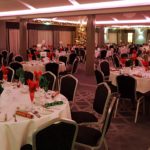 Waiting around isn't so bad. We arrived at the venue for 6pm but in between setting up and Dons stories and generosity we were kept well entertained. It was back downstairs for another coffee. Although on this occasion another band were booked to perform after us. Three guys who perform for a variety of golf shindigs were booked to play at 10pm. Obviously things had run a little over time.
Since the meal run over and at some point the raffle had to be drawn with the prizes given out our set was going to be cut short. We hung around a bit trying to not act like spare parts until Don gave us the nod. Our performance lasted around 40 minutes which wasn't too bad considering. It gave us just enough time to perform a cross section of the most appropriate songs. Warming the guests up nicely with some dancing songs ready for the band. We ended our set on a high to an appreciative audience.
Packing the equipment up was funny. Since the band where starting after us we literally had 5 minutes while the raffle took place to do so. Grabbing our gear we flung the whole lot out into the hallway and decided to pack it up out of sight. One thing I cant understand is how leads become so tangled when every time you put them away they are folded nicely. Since we had literally grabbed the equipment the leads represented a huge spaghetti junction puzzle worse than unpacking your Christmas tree lights. It threw all our setting down routine out of the window. It took us a while but we got there in the end.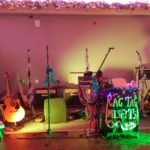 While we were packing up we were approached by the president of Formby Hall Golf Resort. He told us he thoroughly enjoyed our set. He told us he wrote songs etc., and had previous success with these. He gave us some advice (which is always good to hear from someone in the music business) and informed us that we will be re booked for another party with them.
We'd like to say a huge thanks to Don and all your friends who made us feel so welcome. Don you are a superstar and truly one of a kind. You make the world a better place and spread love and happiness wherever you go. May we wish you all the luck in the world with your fundraising and may your efforts be an inspiration to others.
If you wish to book live music at Formby Hall Golf Resort, festival, wedding, event or party you can contact us HERE to check our availability