Set in spectacular Grizedale, Cumbria the Eagles Head nestles itself in between the forest in Satterthwaite. South lakes, Cumbria England, that was the scene for our next outing.
A while back we had played Grizedale Rocks and the owners of the Eagles Head had been in attendance, they contacted us a few months later arranging a date to come and perform at the pub.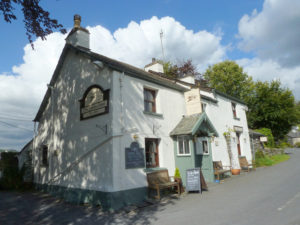 On the way to the gig we drove the wrong way and ended up in the middle of nowhere. Lucky for us we had plenty of time to get there. Redirected by the sheep and once we headed back in the right direction it wasn't long before we arrived and parked up. We were met by Simon and the staff at The Eagles Head with a warm welcome. When we walked in the smell of the food was mouth watering. The delight of the fire roaring in an old style pub in serene surroundings was delightful.
The staff had set aside a space for us and offered us a drink each whilst we setup. It was great and they had been so friendly and welcoming. We setup our gear to an almost full house. We knew this would be a great place to perform if people stayed after there meal and thankfully they did.
After the first few songs we had a responsive audience on our hands. They were delighted to have some live music they could listen to whilst drinking real ale and chatting away. A lot of people had been camping and staying in B&B's. The campsite was only across the way at the farm where we play every year.
After a while some friends Arthur & Dahnell came in and we welcomed them with open arms.  Arthur who has the campsite at Bowkerstead Farm is a very busy man indeed. From pigs, chickens, goats, cattle, dogs, cats, horses and happy campers. However he somehow finds the time to socialise and  watch live music.
We also got chatting to another band who had been at the pub from nearby. They performed alongside us previously and had also recommended us to the owner of The Eagles Head. They came to support us and stayed right till the end of the night.
The Eagles Head is a lovely pub. One that was also welcoming to having live music on. Voices weren't raised once and we had been enthusiastically applauded after every song. It was a great gig and we cant wait to return at some point. We were told we were welcome back anytime. Thank you to all at The Eagles Head and to Paul, Arthur & Dahnell for supporting us.
If you wish to book live music for your wedding, event or party you can contact us HERE to check our availability.