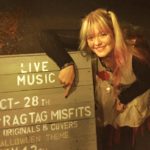 The Eagles Head, Cumbria is situated in a little village called Satterthwaite in the Cumbrian countryside. With more livestock than people it has a lovely quaintness and great community spirit. The Eagles Head is  a beautiful country pub that is in effect in the middle of nowhere. Unless you have ever been to Grizedale then you may have stumbled across it. Surprisingly each time we have played at the Eagles Head it has been quite busy especially for a rural pub. It seems in season all the holiday makers eat and drink here and out of season the locals flock by the tractor load.
This particular gig was the first in a two part gig for us in the Lake District as we were also booked for Skelwith Caravan Park, each of these gigs had a common theme in that it was a ghostly ghoulish night going by the name of Halloween.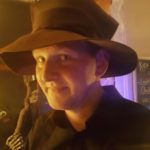 For a bit of fun we dug out some materials to make Halloween costumes. I decided I wanted to be music related. So in full satire as a voodoo doll complete with pins though I had mistakenly thought that the band I wanted to aspire to was called the voodoo dolls. It was in fact the Goo Goo Dolls. Ooops.  Mr Misfit dressed as a wizard complete with cape and a long twisty pointed hat that was very heavy. Both costumes were homemade. Andy's hat is actually quite funny. It is in fact a cowboy hat with wire coat hangers on top with some brown material stitched on. The hat was drooping throughout the performance. Needless to say the hat was made redundant half way through the show.
When you make the effort to dress up a thought crosses your mind. I hope everyone else is making the effort and they are into dressing up the same as we are. Although part of you thinks, well maybe they won't even give a thought for Halloween. Aside from the cobwebs & spiders in the pub, your on you own and by then it's too late. I mean you can't pass of a Regatta coat and some muddy walking boots as any kind of effort. Unless your dressed as a psycho walker. It reminds me of the scene off Only Fools and Horses with the Batman and Robin sketch. They arrive at the party only to find out its a black tie event and Trigger is wearing a suit and tries to convince Del Boy he has come as one of The Blues Brothers. Classic scene.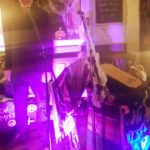 Alas our thoughts of us being the only ones to have made an effort were short lived as a few of the locals had come out dressed to impress and we breathed a sigh of relief.
We were met by the owner of the pub Simon, who made us feel most welcome as usual. He's so friendly and welcoming, always offers us a drink and reserves a spot for us to set up. Setting up in time for our 9pm start we were well catered for and greeted by some friends from nearby. It was going to be a Halloween party with some ghastly goings on.
Before the Halloween gigs we decided to learn a few spooky songs Ghostbusters, Time Warp etc., and they went down particularly well.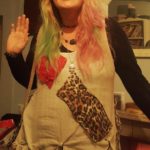 Overall it was a fantastic gig with a wonderful and appreciative crowd. Huge thanks to all The Eagles Head for making us feel so welcome. Huge thanks to all who danced, sang cheered and boogied especially Frankie and his funky dance moves and of course our good friends Arthur and Dhanell for putting us up for the night in the comfiest bed in the world. Great crowd, lovely venue and definitely worth a visit if your ever in this beautiful part of the country. Until next time xxx
If you wish to book live music for your venue, festival, wedding, event or party you can contact us HERE to check our availability