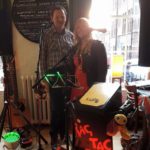 Jenever Bar Liverpool on Hope Street in was the location of our next private booking. The occasion was the birthday party of Sarah who was celebrating her 30th birthday. Hope Street houses many bohemian bars and Jenever Bar is no exception. It's a medium/small size venue ideal for around 40 -50 people. It's location is paramount to its popularity with a host of nearby landmarks including the Anglican Cathedral and Philharmonic nearby.
This particular night was very busy in the area as the party coincided with Light Night. Light Night is a celebration of arts and culture that is celebrated annually in Liverpool every year in May.
This is great for the city though it isn't great when you need to find parking nearby. Still we had loaded up and walked into the Jenever Bar where we met Stacy and Sarah. Stacy had organised and us for some live music for Sarah's birthday party.
As we walked in she gave us a big hug and was lovely and friendly. Busy putting up photographs on some string to hand from the walls she was doing some late preparations before the guests arrived. Whilst the equipment was being setup,  I went to seek out a limited parking space. It turned out it was beyond limited a space simply did not exist.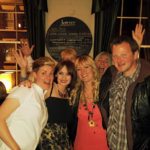 Driving round for 20 – 30 minutes resulted in a fruitless exercise. A last bit of hope (on Hope Street) was the cathedral (always a good place to try). More specifically the indoor parking area of the Anglican church about a 1/4 mile away from the venue. Luckily as it was Light Night the church had allowed parking with the only catch being that you had to get back before they shut the barriers at 11.30pm. Rushing back to setup we did the sound check just before some familiar faces arrived.
A while back we performed at Karen & Lee's wedding at the Athenaeum in Liverpool. An adorable couple who we have stayed in touch with. They had come to celebrate Sarah's party and had recommended us. We had a quick catch up before playing our first set. With the guests all arriving and chatting away it wasn't long before the bar was at full capacity. The dancing was underway. We had were going down well in the first half and as the buffet was served we had a little break.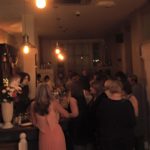 After the food was served and everyone had filled up and yummy delights it was back to our second set to dance the night away, and they did just that. It was a true birthday celebration. Sarah said a few humble words on the microphone thanked everyone for coming. We had a great night. We played happy birthday for Sarah before finishing the night off with some dancing songs. The parking nightmare seemed trivial by this point. We had 15 minutes to spare to get the van back meaning all was good.
Thanks to Stacy for booking us we hope you enjoyed your birthday as much as we enjoyed performing for you all.
If you wish to book live music for your festival, wedding, event or party you can contact us HERE to check our availability