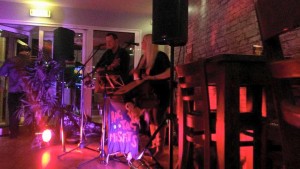 The Common Room nightclub in Culcheth, Warrington has seen us perform quite regularly since October of last year. They have been booking regular music here on Friday and Saturday nights.
Performing at the Common Room has been a change for us as it is essentially a nightclub featuring a DJ. The DJ takes residence upstairs playing modern club house music  and upbeat chart topping hits.
On most nights we have been booked it has been steadily busy apart from the odd Saturday that had been quiet. We had some decent nights were the crowd had been dancing away and the room filled and a joyous evening had by all.
Up until recently we had been regularly booked at the Common Room. Then the dreaded change in ownership had led into a change of ideas and so the bookings became less frequent. With the change of owners coming in the music nights have ceased entirely. So if your wondering where you live music has gone at the Common Room look no further than the new owners.
Perhaps uncommon to have a live music night in a nightclub though the nights we performed at had been a great success. Our fortnightly slot was building momentum and we received a few further gigs for private functions. All good things must come to an end I suppose. It is a shame however that another live music venue bites the dust.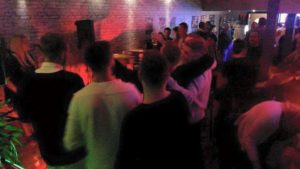 The Common Room in Culcheth seemed to be the place to go for a night out for a party. It was manned by security on all the nights we attended and luckily for us came in handy on a few occasions. "Phoenix Nights" pops into our minds when we perform at functions with security. Peter Kay got it down to a tee. The guy at the Common Room was really funny and friendly although he was no pushover.
Due to too much alcohol and over inflated egos we witnessed some undesirables being disallowed in the club for being underage. They were also known as potential trouble makers. The doorman later told us that the said culprit had brandished a knife towards him.
We witnessed the door man loosing it with a customer outside (with good reason in hindsight) for his refusal to allow entry into the club. A fight between some young lads one of whom fell flat on his face chasing his companion up the street. A lady shouting at her boyfriend, sitting in the road and running into our van as we packed up. Yes lots of shenanigans went on but the good memories far out weigh the bad. Overall it was overall pleasure to perform. The staff and security were so helpful and welcoming towards us.
Thank you to all those who partied with us and for the experience. I hope your heads weren't too sore the next day.
HAVING A PARTY?
If you wish to book live music for your wedding, event or party you can contact us HERE to check our availability.