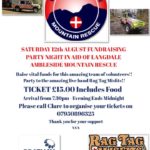 Brathay Hall, Ambleside. Our third and final destination for the day was situated in the beautiful Cumbrian countryside.
Clare originally booked us for a birthday party for her husband Rick in Chester. A change of plan meant a location change to Brathay Hall, Ambleside. Clare initially saw us performing at a local haunt in Cumbria and decided to change location for the party. Many of Clare's friends were due to be on holiday in Cumbria when the party was taking place meaning it would be more practical to change location of the party. Clare then decided to change the theme of the party into a fundraiser which we thought was a wonderful idea. Since the party was taking place in Ambleside she chose Ambleside Mountain Rescue as her charity of choice. If your going to have a party, why not raise some funds and do some good for the local community. Brilliant.
Chugging down the M6 motorway Northbound in our old trusty rusty VW campervan. We were in a bit of a rush as the initial booking with a 20 mile journey to Chester had changed to a 100 mile journey. Time was tight. The traffic was light though and we managed to get there in an hour and a half. We eat tea on the way (sandwiches, coffee and bananas) and did a nonstop trip. Feeling tired but still with plenty of energy left for the 3rd gig of the day.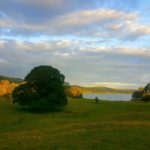 We reached Brathay Hall and immediately noticed the lake and a spectacular view. Breathing the fresh countryside air and idyllic landscape for a brief moment. We jumped out the van and were welcomed warmly by Clare and Rick. I explained when the location was changed that we may arrive a lot later than when we did. They were so happy that we managed to arrive before the guests. Everyone got stuck in and kindly helped carry the gear in. It was a great help. We could get used to roadies to be honest. Instead of five trips to the van, it's done in one load.
Once inside we noticed the large rooms and tall ceiling, it is an old Georgian style 18th century building that has been and continues to be used for the purposes of the Brathay estate. The mission is to improve the lives of children's wellbeing and helping communities.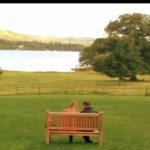 With all the help it took us literally five minutes to unload. The room where we would be performing looked similar to an old style library room but with soft furnishings and a bar. It was large enough to fit everyone in and even the DJ managed to find a table and setup his laser that made the room come alive. Once we were setup and sound checked we had some time left to wait for the guests arrival. We went outside as the view was breath taking. We took a moment on the bench overlooking the lake to gather our thoughts and prepare for our 3rd gig of the day (Clare took a sneaky photo of us both). Overlooking Lake Windermere it's apparent why notable artists of the last century like Coleridge and Constable come here for inspiration.
With the guests arriving by the bus load we opted to swoop in before it got too busy. As we burst into our first set and the dance floor was filled from the first song. This was a crowd who wanted to party. I must say every single song went down well. Sometimes at gigs you may throw a song in and be a bit unsure of how the audience will react. It becomes easier with experience on how to read your audience. This audience was like an open book. Since they loved it all we saw some really funky moves on the dance floor. At one point a guy had done a shoe swap with his wife and had the crowd in stitches. There was a bit of body popping, swirling, shaking and all over rattling and rolling. It was a tremendous gig.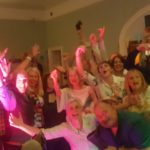 We had a small break and we were invited to help ourselves to the buffet. This was a Godsend. We were pretty hungry as we hadn't had much time to eat throughout the day. Lovely jacket potatoes and a range of fillings. So simple yet so effective.
We started off the second set with the same reaction. The dance floor filled immediately. There was a lot of banter in the room which feeds our performance. The DJ turned out to be an expert Cow Bell Ringer which of course we brought to everyone's attention. He proudly bashed away and even gave a lesson or two to willing participants.  The room was busy and the even the bar staff were merrily dancing along. They later told us "we haven't had a night like this in ages". The gig was pretty much full on right to the end with encore after encore.
To be honest we were pretty tired when the gig finished, but we didn't let it show. We went full throttle to the end and then some. Clare sent us away with some beautiful sunflowers and a couple of bottles of plonk. We packed the van up and took to the road again for our 100 mile journey home. Before we started the engine we both looked at each other and said "and breathe…" The day was a huge success and all 3 gigs were brilliant.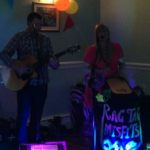 Clare did such a fantastic job organising the whole event and also managed to raise quite a sum of money for charity. Huge thanks to Clare for booking us, Happy birthday to Rick and well done to both of you for all the good work. Thank you to your lovely guests for keeping us well entertained and to the lovely bar staff at Brathay Hall. What a way to end the night. Until next time my lovelies…
If you wish to book live music for your venue, festival, event, wedding or party you can contact us HERE to check our availability