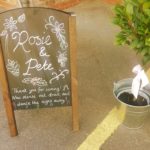 A Cheshire Wedding. Antrobus Village Hall, Antrobus, Cheshire. Antrobus is a Village we've never even heard of let alone visited. Situated in Cheshire, Northwich it is a quaint little village with approximately 300 houses, a post office run by volunteers, a Church, a Chapel, a meeting house, a community garden, a golf course and of course a village hall. We headed out to Antrobus Village Hall for our second wedding of the day. This was the wedding of Rosie Beech to her man Pete. It has a rural feel to it and is the perfect location for a wedding.  After the wedding this morning with Louise & Dan at the Liver Buildings it seemed a world away from the busy hustle and bustle of city life.
Since it was our first time at the village hall, we were unsure of the location and parking situation. As we arrived, from first appearance it seemed to be all locked up. Not a soul in sight. No cars in the car park. No signs of catering vans or the usual vendors you would expect to see at a wedding. I decided to have a look around hoping we were in the right place. I walked down an alley alongside the building. There was a large car park in the back and the main entrance to the Village Hall. Outside was a beautiful little sign announcing the marriage of Rosie and Pete. Brilliant. We have the right venue.
When we entered, the room was decorated beautifully with a big stage at the back. It was surprisingly big for such a small village.  There was still no sign of life though. The bar was closed. I was surprised as the guests were due to arrive in 40 minutes. Then I heard chatter and laughter coming from the kitchen. I popped my head through the door and said "hello" and frightened the life out of the caterers who were busy preparing food. This made me giggle.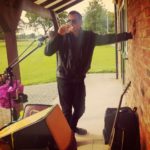 I've got a thing with "booing" people. Not that it was intentional this time. Andy is great to boo. His whole body jumps and his arms go up in the air. I once hid in the back of the van when he went into the shop. I was giggling in the bed under the covers trying my best to compose myself. He returned and assumed I had nipped into a shop. His reaction was priceless when I jumped up and booed him. I could write a whole blog on "boo" moments. I'll save that for another day and get back to the wedding.
After I frightened the caterers I asked if they knew where we would be performing? They didn't have a clue. They told us they were just caterers. It seemed we would have to work it out for ourselves. When booking us Rosie mentioned she wanted an outside wedding, so we had a snoop outside. Antrobus Village Hall boasts a lovely little courtyard type garden with an open back overlooking a playing field. It was fairly breezy but the sun was shining.
We asked if we could open the doors so the guests would have easy access to come in and out. When the doors were open though it was causing havoc on the table cloths. They were flapping about like a fish out of water. The door slammed shut in the wind. We would have to wait until everything was on the table to weigh the cloths down and wedge the door open. Nevertheless we made a decision to setup outside and waited for the guests to arrive. There were straw bales stacked in the courtyard. We assumed these were to be used as seating. So once we were set up we took it upon ourselves to place the straw bales strategically around the courtyard. The guests would now have somewhere to sit.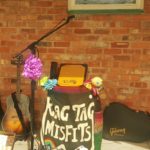 After a short while, the guests started to arrive. I looked a bit like Wurzel Gummage after shifting the bales. I shook off the straw and we broke into song. The decision to set up outside paid off. Most people accumulated outside anticipating the arrival of the bride and groom. Processco's in hand we continued to entertain the guests. They were really getting into the music and most of the instruments were already out of the box.
It wasn't long before Rosie & Pete arrived together and walked through. There was a big cheer and again the goose bumps started to rise on my arms. You would think I'd be used to these emotional moments by now. Every wedding is different though. All brides and Grooms are unique and all guests react differently, so it gets me every time. Rosie looked absolutely stunning and Pete very dapper. Her beautifully detailed ¾ length dress was perfect for a summer wedding.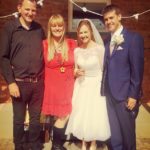 A few months earlier Rosie and Pete requested a few special songs to be performed live. We learnt "Little Respect" by Erasure for them so we decided to play this song upon their arrival. They both smiled sweetly at us with an unspoken thank you. The live music was going down brilliantly. I can happily say it was the perfect addition to a chilled out and relaxing atmosphere. The audience were brilliant and everyone was getting into the afternoon vibe with live music from the Rag Tag Misfits. The percussion went down a treat too and everyone was having a good ole singalong with us.
We performed 2 sets with a small break in between until the Guests were called in for a meal. Rosie and Pete came and thanked us and were then called in. As they entered the room we heard a big cheer. We packed up our equipment and headed to our third our final gig of the day in Cumbria.
Huge thank you to Rosie and Pete. Also to your wonderful guests for being so lovely and welcoming. We wish you love, happiness and blessings throughout your life as a married couple. Let's raise a toast for the Bride and Groom. To Rosie and Pete everyone.
If you wish to book live music for your venue, festival, event, wedding or party you can contact us HERE to check our availability