The Liver Buildings, Liverpool. Today we were to sing the lovely Louise down the aisle and entertain her guests before the wedding ceremony. It was the first of three gigs booked in for today.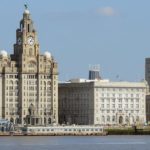 One of the most iconic and beautiful buildings in Liverpool. The Grade 1 Listed building (that will probably outlive us all) was constructed in 1911 and sits on the Pier Head on the River Mersey. It is home to two fabled Liver Birds who watch over the city and the sea. Legend has it that if these two birds were to fly away the city of Liverpool would cease to exist. To be honest if two great big concrete birds flew away that would be the last thing on my mind. I'm now starting to imagine all the structures and landmark animals coming alive, so I won't even go there with my whacky imagination. All I can say is the Statue of Liberty would kick some serious ass.
Anyway back to the Liver Buildings I can be proud to say that my Grandad used to clean the windows many years ago.  Pronounced "Lyver" not Liver as in the stuff you make pate' with. I suppose this is quite confusing for visitors since Liverpool is pronounced "Liver" like the stuff you do make pate' out of. Quite contradicting and apologies to all visitors, but it will be somewhere in history where the name comes from. I've just done a quick google search and apparently there is a reason.
When we arrived at The Liver buildings we were lucky to find a parking space right outside. It was close to the service lift and free to park so it was quite handy. It was a tad windy and the weather wasn't really on our side with that horrible bitty rain (the type that looks like it's not raining but soaks you through).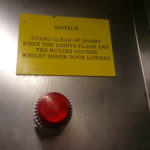 I banged on the door whilst Andy polished his boots and a member of staff who was very helpful showed the best way to gain access. We unloaded the equipment and headed for the service lift. The man in the service area warned us about the lift being quite abrupt. He wasn't wrong there. We pressed the button, a siren sounded and the lift door quickly slammed shut. It frightened the bloody life out of me.
We found ourselves on the top floor and amongst a maze of corridors and empty rooms. I ran ahead due to the venue being so enormous to see where we needed to be. After running around like a rat in a maze I finally sniffed out my cheese. I headed back to Andy who was looking quite bewildered guarding the equipment. We eventually found ourselves facing the sea front on the south side of the building. Opening the doors it looked like it could be a wedding reception room and as it turned out it was. Yay.
It's strange how much of the building is not in use. You get to see things like this when you're behind the scenes and it's actually quite fascinating. Upon entry you would expect it to be highly furnished throughout. Imagine how much the maintenance on a building like this costs though. I think it would be slightly more than a 2 up 2 down.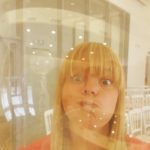 Today was Louise & Dan's big day and the room looked magnificent. Walking through those corridors you wouldn't expect to walk into such stunning décor. There was an arrangement of seats with big balloons on the end of each aisle. The balloons reminded me of something my head lives in so I had to pose for a picture behind one.
We introduced ourselves to the wedding coordinator who assisted us in showing us our performance spot and a secret little cupboard to hide our bags. Over in the corner was the photographer snapping away at all the little quirky extras Louise and Dan had arranged. The room was very white like the video to Imagine by John Lennon. The view was amazing. To think my Grandad cleaned windows this high up and probably higher, ooohh makes my palms sweat thinking about it. Overlooking the River Mersey you could see right up the estuary. We set all our stuff up and we were quite early so we were hanging around a bit before the guests started to arrive.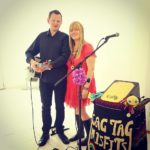 Louise & Dan requested Dakota by the Stereophonics to be performed live as Louise was walking down the aisle. We had to get the timing spot on. The song itself is over four minutes long so we would need to sum up the song in approximately 30 seconds. We had to contact the wedding coordinator beforehand to check how long the isle was. This in itself was quite tricky as you needed to miss verses and guitar breaks out. When you are used to singing a song in a certain structure it can play havoc on your brain.
The guests started to arrive so we entertained them with a few sing along songs. Louise & Dan wanted a happy and relaxed atmosphere.  There were a few stragglers who were slightly delayed in arriving as apparently they got lost (very easy to do in a building this size).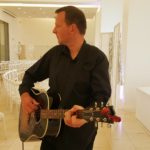 It was similar to a surprise party as we needed to wait until the bride was about to enter before we started. We had to stop mid song as a member of staff signalled her arrival. The doors then opened and so we began with Dakota. First to enter the room were the beautiful Bridesmaids and the flower girls holding a balloon which I think said Mummy's on her way. About 20 seconds later Louise entered, she looked absolutely stunning. There was a gasp from her guests and it was like something in a fairy tale. I could feel goose bumps on my arms whilst trying to hold it together with my singing. When she arrived at her Husband to be we stopped the music. With the ceremony about to commence we slid away to the side behind the partition and listened to them make their vows to one another.
After Louise & Dan tied the knot a rapturous applause erupted from behind them and they were now man and wife. To celebrate this momentous occasion we broke into Love Me Do and had the guests singing and cheering. It was brilliant. We played some more live music as the guests made their way into the next room. It was a great start to the day for Louise, Dan and their guests and also for us. They were all very pleased with our performance and we received many compliments as people were exiting the room.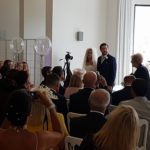 Louise's dad came up to us as we were packing up and said "that was absolutely brilliant" and gave us a big tip. We were overwhelmed by his generosity and kind words about us and very happy that our performance created beautiful memories for the lovely couple. That's why we love our job. We are so blessed to share moments like these.
Thank you so much Louise & Dan for asking us to be part of such a momentous occasion. To all of your family and friends for being so lively and welcoming. We wish you all the love and blessings in the world.
First gig of the day done, another two to go. We packed up our stuff, navigated ourselves through the maze, down the angry lift and hit the road for our second wedding of the day. Northwich here we come.
If you wish to book live music for your venue, festival, event, wedding or party you can contact us HERE to check our availability