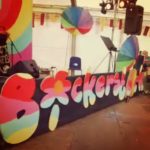 This year's Bickerstock was a classic festival that saw some sunshine and lots of rain as usual for the festival. Starting off on the Friday with the local ceilidh band and finishing off on the Sunday night with some of the biggest local talent in the area. This year's highlights featured  Weekend Wars, Georges Big Shed, Flora Golden, Big Bambora, Sheldon Blackman from Trinidad & Tobago, Polaris, Psychic Robot, Red Eyed Jedi, Red Men Don't Walk and many, many more… oh yes and us The Rag Tag Misfits.
We missed out on the festival on the Friday and Saturday. This was due to travelling back from Kent and a gig on the Saturday at The Hop Vine in Burscough. When we did arrive for our set in the afternoon at Bickerstock we unloaded our stuff and walked down to the Bar Stage. I love Bickerstock as we know 80% of the people there. It's like a big gathering of new and familiar faces. We don't mind going on the smaller stage so to speak, to be honest we prefer it. Its inside for one and the weather can be quite unpredictable in August.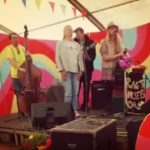 It wasn't long before we were due to perform so we give the sound engineer the nod to let him know we had arrived. We did a quick sound check and Paul (who knows our settings inside and out) gave us a great sound. He then decided to join us on stage with his double bass. Paul has played with us many times and is always welcome to join in. I love the sound of the double bass and he turns his hand to anything. He looks out for the chord changes and off he goes. The tent was pretty full already but then it started to rain and it filled up even more as the audience tried to stay dry.
I decided to call Pauls finance Gel up to do backing vocals for one of our own songs. Gel did backing vocals on the recording of our CD so it was brilliant to share a stage with them both. With our set over and the crowd nicely warmed up, we sold a few CD's and handed over to the next act. It was time have a few drinks, relax and unwind.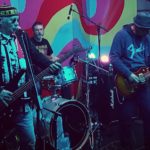 The Quaintest Show on Earth was a treat. Greedy Jesus (as everyone knows him) was due on stage. We've done a couple of nights with him in Liverpool and he's a unique character. Nobody knows his real name. It's probably something really normal like Bob or John. Everyone just calls him Greedy and he seems happy with that. His antics on stage were amusing and he was a real crowd pleaser. His energy was immense as he jumped on speakers and out into the audience. They didn't what had hit them. Brilliant.
We also watched the Kirby Skifflers who do a great selection of songs. In particular "My Old Mans a Dustman" went down as a favourite. As the cider started to flow, the camera went into the bag and good times were had. We danced along to Big Bambora, Psychic Robot and of course the night was finished off by George's Big Shed. It's a Bickerstock tradition for Georges Big Shed to finish the night off with the crowd dancing along and begging for more at the end of the night.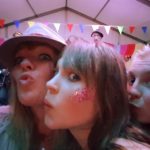 The rain had really come down in the last few hours and made some lakes on the field. You had to feel sorry for the people in tents. Still it was all part of the festival experience and reports show that a great weekend took place, yes there was the odd hiccup of a band pulling out but nothing major. All in all a great little festival. Thank you to all the Bickerstock Crew for your determination and hard work on making this event happen and for bringing the community together. To the bands, the caterers and of course You, the audience for helping keep music live. Until next year….
If you wish to book live music for your venue, festival, event, wedding or party you can contact us HERE to check our availability