The Kent International Scout Jamboree takes place every 4 years. Playing host to thousands upon thousands of Scouts and Guides from all over the world for this week long event. We were contacted to provide some Live Music for the Kent International Scout Jamboree and also a junk percussion drum workshop throughout the daytime for the entirety of the week.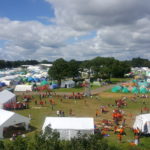 The planning for such an event this size is enormous and a lot of effort and work goes into the organising, infrastructure and activities. The festival was huge. They have large festival style stages and smaller stages in every sub camp. They also have a fairground, rock climbing, science exhibitions, woggle workshops, craft tents etc., there is so much to mention. It's like Glastonbury for the Scouts and Guides. A few celebrities (not us) to top the week off as Bear Grylls came and visited the camp.  In total there are six sub camps with different names including Africa, USA, Asia, Arabia and Europe. It was huge. There were lots of things going on during the day including water and air activities, you can guarantee most of the kids are wrapped up in their tents by 11pm, exhausted by the amount of activities on offer.
On our 7 hour journey down to Kent we had the van fully loaded with Congas, bins, shakers, tubes, buckets, bottles, bongos and all sorts of percussive paraphernalia. After the long journey down we arrived at approximately 5pm to find the dance tent and fairground rides in full swing. There were kids buzzing around all over the place.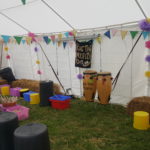 We were given a guided tour upon entry by Becky who seemed to have every responsibility under the sun who took us to the office for our passes. The organisers were so friendly and helpful seeing to our every need. This was very kind of them since we know how busy the team must have been. We would be here for five days so we had with us plenty of supplies, food, drinks and plenty of camping gas. The location of the site meant once you were in you had to get the bus at specific times that took you to the local supermarket.
After we met the organisers we began unloading the van in our very own marquee. This would be home for the next week. We were allocated a lovely spot in which we would run the workshop. It wasn't requested but we felt necessary to decorate the marquee with pom poms and bunting to give it a welcoming feel for the morning drum workshop. We set up the percussion and bottles ready for the next morning. Drum sticks in the middle, we were ready to go.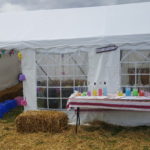 The organisers had provided straw bales and some bins in addition to our own equipment. The tent looked brilliant by the time we were finished. The junk percussion was arranged into a circular shape so we could teach the kids some basic rhythms and patterns as we all played in unison.
The first morning was a beautiful mid summer's day and you really couldn't have asked for better weather. We opened the doors of the marquee and put our musical rainbow bottles outside. The drum workshop was more like a drop in workshop rather than classes. The children could come and go as they pleased and it worked fantastically. A group arrived petty much straight away and had a look around. I said to them "do you want to learn some rhythm?" They looked at each other and said in a shy manner "OK what do we do?" I told them to pick up some sticks, grab a bucket, bin or shaker and we'll take it from there.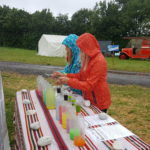 Despite there being so much to do at the Kent International Scout Jamboree, the workshop was really popular. It was brilliant, throughout the week groups of children kept pouring in and some familiar faces kept returning. On the third day we had keen percussionists sticking their head through the doors asking what time we would be open. It was very popular. I knew we had a performance on the big stage on the Friday so we asked the organisers if we could ask a select few children to join us on stage for the final song.  The answer was yes . We informed our regulars of this and they came back to practice every day in preparation for the big performance.
The enthusiasm to learn was astounding, they picked it up really quickly and once the session had finished we told them they were welcome to stay and play and gave them a drumstick lollipop each. We were pretty much left to it and we worked out a routine of busy times and quiet times and organised our breaks around that.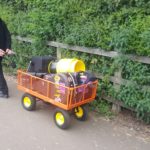 Over the course of the week the workshop became more and more popular. We introduced the guitar to accompany the drums and the children were blown away at how a rhythm can sound when actually put in a song. It's so satisfying being able to pass our knowledge onto children who are keen to learn. By giving them encouragement you can really give a child confidence and it's a magical feeling to see a child who is usually quite shy brimming with confidence. The ages were mixed and we even gave a workshop to a group of leaders who we had a lot of banter with. Since it was quite popular the air was filled with the sound of drum beats.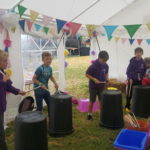 As the days went by we arranged to incorporate the live music aspect into the event. A sub camp leader got in touch and asked us if we could provide some music on their stage. We happily agreed and headed over to the sub camp to entertain for a set. For a few nights in the week we went to a sub camp and performed some upbeat cover songs for the kids. We needed to borrow a trolley as it was a good 10 minute walk with all the gear. As with every trolley we have used, it had a mind of its own.
Getting there was more of a challenge than setting up. Having said that it was a lot easier than our first attempt. We used rope to tie the bins down and dragged them across the field on the first afternoon as we decided to take the workshop into the camp. We later found out it was much easier to leave it at the marquee. The kids would know where to find us. We stuck with musical performances after that.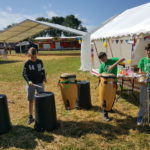 On the fourth day some regular kids kept returning with the anticipation of performing on the big stage for the whole camp to see. It was a huge stage similar to "The Other Stage" at Glastonbury. They were thrilled that they would get to perform on the last day with us. It was unexpected but welcomed by them. We decided to teach them a rhythm so they could perform "We Will Rock You" and "Bare Necessities" live on stage with us. They are popular songs that the children were familiar with and the rhythms are quite straight forward. The plan was for Andy to play the guitar and I would sing and drum with them.
The last day of the drum workshop had come around. The group had promised to come over in the morning after breakfast to go through the song once more. We waited and all was eerily quiet, it wasn't long before we started to ask ourselves what was going on. As the fairground (that should have been really busy with a two week cue for the waltzers) was dead we started to question if were in a zombie apocalypse. We could hear plenty of activity in the sub camps but no one was seemingly allowed out.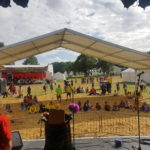 It seemed that someone had been very unwell during the night. Silly rumours were flying around about a sickness in the camps. To be 101% safe the organisers put a lock down on the whole event. It was a tough call but they wanted to more safe than sorry. They sent some tests off to a lab and within a matter of hours things were back to normal. It was an organiser's worst nightmare but they dealt with the situation brilliantly. We took advantage of the lockdown took a walk up the radio tower. The camp hosts its own radio show KIJ LIVE. We climbed the scaffolding to a magnificent view of the camp.
When everything returned to normal so did the activities. The children who were promised the performance turned up. They told us they thought they wouldn't get the opportunity to perform because of the lock down. The lock down was playing on their minds. We reassured them that it was nothing but a tummy bug and the show must go on.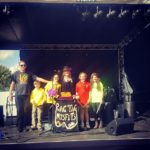 We made sure everything was in place with the sound guys helping us set the mics up and giving us a great sound. Just as we were finishing our last few songs they came over and someone ushers them on stage. Their faces as they climbed the steps to the stage was a memory that will stay with me forever. They were so overwhelmed and remembered what I said about pretending the audience were teddy bears to avoid stage fright. To be honest, they got themselves together pretty well and focused on what they had to do. They were little superstars and I know it's a memory that will last them a lifetime.
Huge thanks to the organisers and volunteers, especially to Andy and Becky for being simply amazing. You did a brilliant job in organising such a huge event. A massive thank you to all the scouts, guides and leaders who had a jam with us and an even bigger thanks to our little super stars who joined us on stage. You have all been utterly amazing.  We hope to see you in four years' time for the next Kent International Scout Jamboree. Maybe you will have taken up the drums and can teach us some new rhythms.
If you wish to book live music for your venue, festival, event, wedding or party you can contact us HERE to check our availability