Kings Acre, Saughall, Chester. Today was the wedding of Kieran & Sarah. Today they would become Mr & Mrs Waters. Their venue of choice is a beautiful little venue in Saughall known as Kings Acre. It is a small holding, deep in the countryside and is perfect for a festival style wedding. We have performed at this venue before and we looked forward to returning.
As we arrived we noticed a large marquee and a couple of bouncy castles. The venue itself is so unique. Set in a rural location with a small lake and a boat. There is a little decking area and plenty of space for little ones to run around.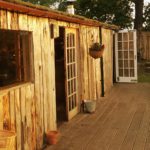 Kings Acre is off the beaten track and is very tricky to find. Since this was our second time it was a little easier as we had a general idea on where we were going. There were also signs directing people to the wedding. When we arrived the gate was closed with a sign saying no vehicles beyond this point. Obviously we needed to be closer as today we were using the full PA. We opened the gate like naughty school kids and drove down the track getting a few odd looks on the way. Looking for a discreet place to park so we didn't disturb the wedding we tried to hide the van behind the bouncy castles.
Once we parked up we hunted around for a member of staff. If in doubt check the bar. They assisted us in navigating the van and suggested we park the van around the back. We would need to go back out and down another dirt track. They told us this would be better because we could slip in through the back of the marquee. Perfect. Or so we thought. Moving the van proved quite troublesome. We headed back out and down the VIP track only to be faced with a track full of potholes. I'm so happy we decided to leave the Porsche at home as it would have shot the suspension. Never the less our trusty van trundled on through no problem.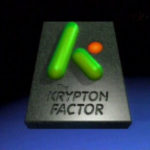 We parked up a second time and this is where the fun began. The marquee was tight up against another tent at the back and there was quite a few shall we say giant marquee pegs around. Krypton Factor here we come. Marquee pegs aren't your typical tent peg made of plastic. These beasts could hold King Kong down in a tornado. They were going nowhere.  Inevitably no matter how careful you are carrying heavy gear accidents happen. You would think we would learn but both of us tripped over the same peg not twice but four times each. It was quite funny. Although I think the peg was laughing at us deliberately poking his head out a little further each time we passed. I think we only hit our heads twice on the low rail you had to limbo underneath. We got there in the end. No trips to casualty were required.
Once we decided on where to setup we noticed we weren't really in the best location. The DJ would be arriving half way through our set and we were right where he would need to be. The ideal area for us was still occupied by a soft play and eating area for the kids. No kids were there. They were probably sweating and red faced burning any excess sugar off on the bouncy castle. The staff informed us they would move the bales and play area further over so we could set up.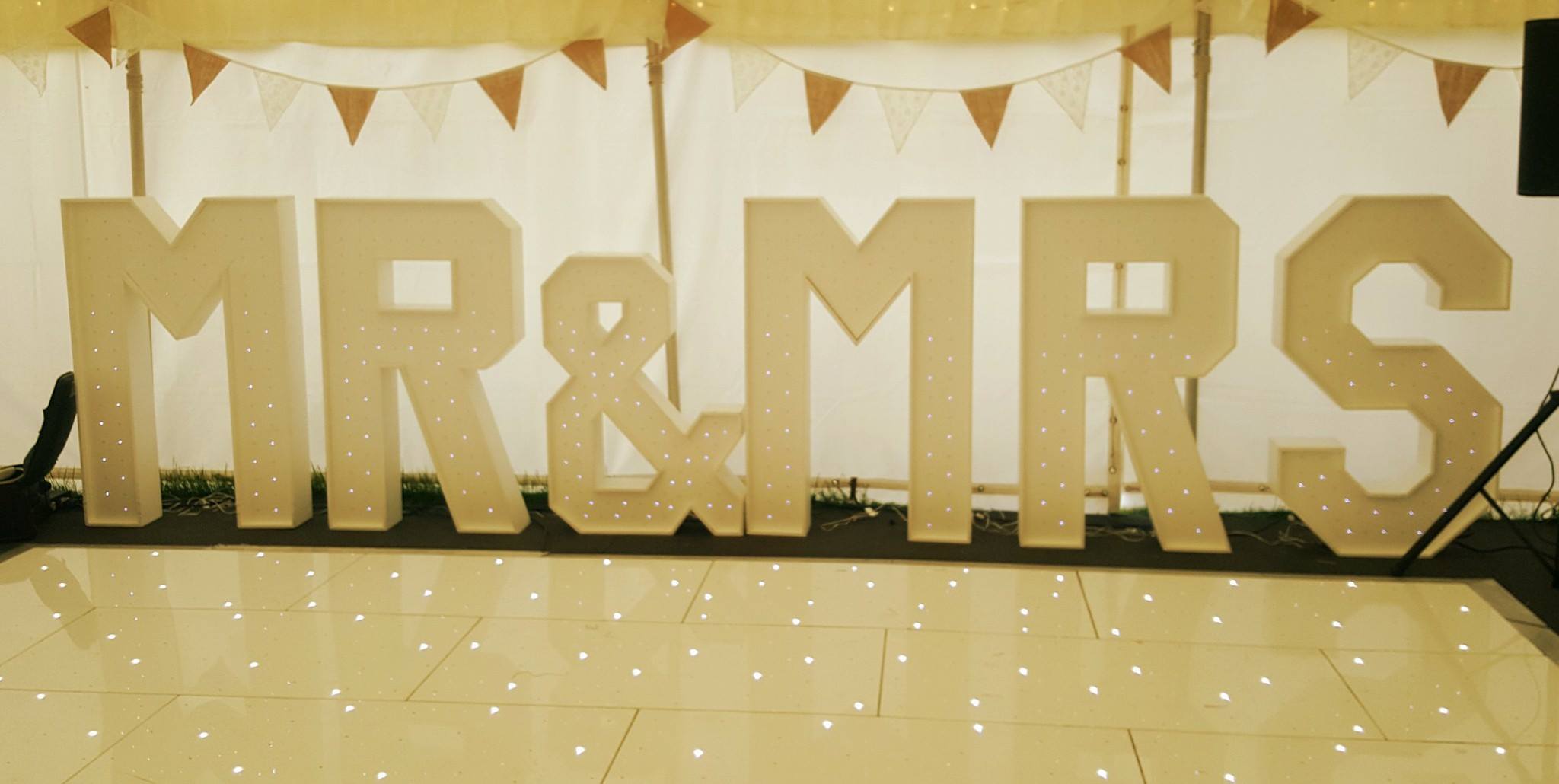 We set up the equipment quite swiftly and did a quick sound check. Well I say sound check. There was no sound. When this happens in the heat of the moment panic sets in. What happens if the speakers are broke? What happens if the mixer has snuffed it? Trying to stay calm and scratching our heads the problem became apparent. Doh, it was simple. In the rush of trying to get the equipment in and moving the equipment several times, I had plugged the lead into the wrong inputs. Andy just looked at me with one of those faces. He didn't say it but is facial expression did. "Dumb Blonde".
After a period of calm we got ourselves together and it was the perfect time to introduce ourselves. Its usually quite easy to find the bride. Nine times out of ten she's the lady wearing a big white dress. The other one out of ten is someone who has turned up in a big white dress trying to outdo the bride. Luckily today this wasn't the case. There she was and she looked simply beautiful. Sarah the bride was boasting the most beautiful dress. She looked perfect.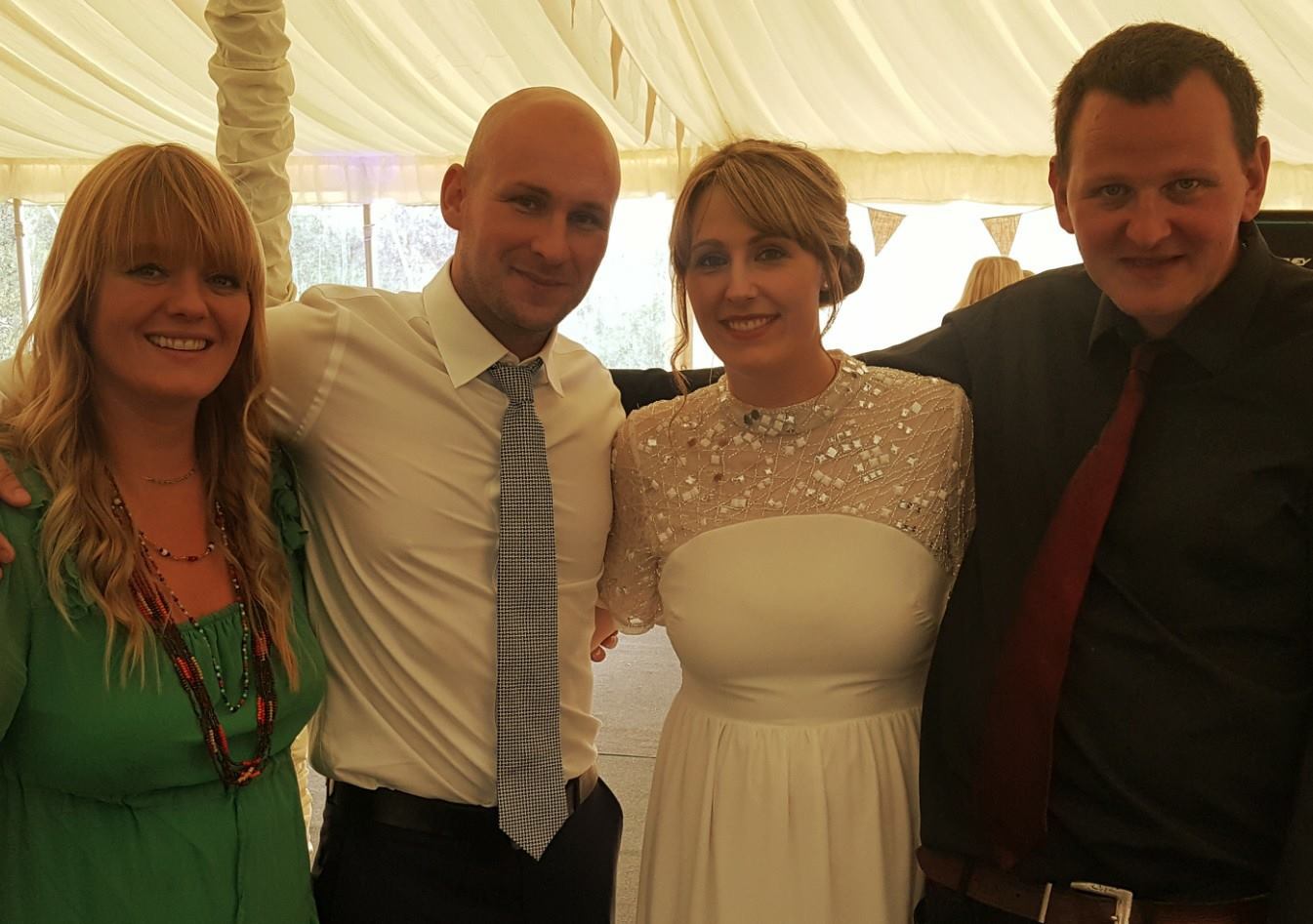 We went and chatted and congratulated her and discreetly asked were Kieran was. The groom is usually much harder to spot. Oh yes I've done it once and never again. Since the ushers, best man and groom are all suited and booted in a similar fashion, it can be tricky. Once I congratulated the best man at a wedding and told him how beautiful his new wife looked. He laughed and said "thanks, but I don't think my best mate would be too happy about that". I wanted the earth to swallow me up. So I've learnt now to do a bit of research before approaching the groom.
Kieran and Sarah are such beautiful people. So down to earth and laid back. Before meeting them it was apparent by the style of wedding just how lovely this wonderful couple were. Meeting them only confirmed this. They asked us if they were able to borrow our microphone for the speeches. In the van we carry a portable amp for situations like this. We happily obliged. Feedback can sometimes be an issue though as they are not familiar with microphones. We told them to stand behind the amp with the microphone to avoid killing the audience's ear drums. They did this and the speeches went down brilliantly. With the odd tear, lots of laughter and a rapturous applause.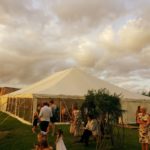 At one wedding in a similar situation we advised them about the feedback and to stay behind the amp. The feedback kicked in and everyone went "ouch". Although a little bit of feedback can clear the eardrums and granny thinks her hearing aid is playing up its not very pleasant. The message wasn't passed on to everyone giving a speech and we had to go over mid speech and tell them to stand behind the amp.
We were asked to perform the first dance for Kieran and Sarah. They chose "1000 Years" which is such a beautiful song. Perfect for a first dance. Since the DJ would be performing after us and all the evening guests hadn't arrived we decided to do the first dance as the last one in our set. This would work well as we would pass our performance onto the DJ and everyone would be on the dancefloor.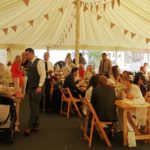 As we started to play, any thoughts of the Krypton factor completely went out of our thoughts. We give it our all and it was worth it. With such a wonderful and encouraging audience it was a breeze. An absolute pleasure. The little ones made us laugh. They all ran in from outside and sacrificed a bounce on the bouncy castle to see what all the noise was about. It was so sweet. They all sat crossed legged in front of us instruments in hand. A little girl had all the instruments lined up in an order and a toddler kept coming over and stealing the instruments. It was so funny to watch. It was like the penguin scene on David Attenborough's Frozen Planet. Instead of stealing the rocks the toddler kept on taking the instruments and started to build quite a collection. We performed for about 2 hours with a short gap in between. Kieran and Sarah have such a lovely group of friends and family. It was so interactive and the children really enjoyed it to.
Towards the end of our set we announce our final song and called everyone to the dance floor. It was that moment again where I need to try and control the goose bumps and clear any lumps in my throat.  I am a professional, I am a professional, I can do this. Nope it got me again. As they slow danced everyone gathered around the dancefloor. They looked lovingly into one another's eyes. They were in a bubble all on their own. The love was beaming from them. What a moment and what a pleasure to perform the first dance. It's so nice when someone has confidence in your performance to ask us to do this.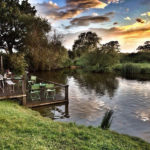 I won't lie the first dance is a bit nerve wrecking. All cameras in hand. To most it's a very important moment.  Since the song was well practiced we were very confident with it. You have to be. No room for error. On the day though it's different and you have to be prepared for this. I can happily report though we played it well and Mr & Mrs Waters were very happy with the performance. That is all that matters. Job done. We passed over to the DJ who took advantage of the dancefloor being occupied. Since it was a beautiful day it was quite a struggle to keep guests inside and the BBQ was just being served.
After our performance we received lots of compliments from the bride and groom and many of their guests. They told us it was the perfect addition to the day. Kieran told us he originally booked us because he liked our unique set list and style. Since he wasn't keen on the run of the mill songs he was keen for us to play. He was right. It was just what the doctor ordered and it wasperfect for the audience.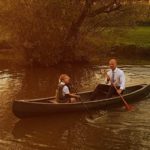 When we finished packing up and after our mission to complete the Krypton factor with those naughty pegs and poles we went to say our goodbyes. Sarah was sat on the decking near the lake with some friends and we couldn't find Kieran anywhere. The sun was setting in the sky and it was a warm summers evening. People were scattered across the field enjoying the warm breeze. Then we spotted him. He was on the water in a boat paddling away. It's not every day you see a groom participating in a bit of water sport. Ha ha brilliant. It sums up this lovely couple perfectly.
They invited us to stay for a bite to eat and since the gig was right through dinner time, it was really appreciated. Again we hadn't eaten before the gig. Throughout the summer our diet consists of sandwiches and bananas in the van out on the road. It was nice to have something hot and it was so kind of them to think of us. We really wish this lovely couple the best in life. They are kind souls with a hearts of gold. So appreciative and thoughtful. Congratulations Mr & Mrs Waters and here's to many happy years together. To a bright and wonderful future, we wish you all the love and blessings in the world.
Krypton factor done, we headed out down the dirt track  , through the pot holes and hit the road. On to our next gig, Hertfordshire here we come…
If you wish to book live music for your venue, festival, event, wedding or party you can contact us HERE to check our availability