Live Music in Hitchin. Today we would wake up the neighbours at a house party to celebrates Alex's birthday. Last year we performed at a wedding for Mr and Mrs Binks and todays gig was a result of Alex seeing our performance and booking us. Most of our bookings come from gigs where people have seen us. I suppose we should take it as a compliment as it shows we are doing something right.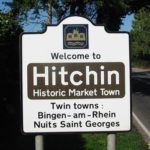 Hitchin itself, if you've never been there is a smallish town with lots of history. You may have seen it on the TV series as the set for Doctor Foster starring Suranne Jones. James Bay was originally from Hitchin, not bad for a fairly small market town. James Bay's brother actually performed at the same wedding as us last year. His name is Alex too and he's pretty damn good in his own right. It's a small world, especially with music.
The garden party today would be at Alex's house. House concerts are brilliant as everyone is relaxed and not worried about re-mortgaging their houses due to the price of drinks. A stunning property with a huge garden. Its really not what we expected when we pulled up. The house itself is amongst terraced houses and looks relatively small from the front. It reminded me of on old police station or post office. It was quirky and looked like it was steeped in history.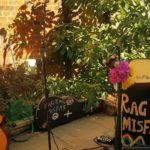 We carried the gear through the house. We passed through the kitchen which seemed to be the central hub of activity. Lots of Alex's friends were preparing a feast and there was a hog roast cooking away in the back. The garden was beautiful. With mature borders and lovely trees it really was a shock to think this existed down such a busy street. It was like stepping into another dimension. Looking for the best place to set up we decided the corner of the patio would be perfect. It was slightly shaded which was brilliant as the sun was beaming with full force. It was situated right infront of the guests and we felt like part of the party.
Quite a few people were already at the party and I've a feeling they had started a few hours earlier. With preparations well underway, live music, a hog roast and a selection of drinks the party was ready. It was an afternoon gig and we were due to start at approximately 4pm. The idea was to do a set before the hog roast and then one afterwards. Plans changed. The hog was ready to be served sooner than expected. This meant we would need to wait another hour before we could do our first set. It wasn't a problem though as we had no more gigs planned for that evening. We waited around for an hour and Alex & Wid kept us well watered with drinks and a lovely table full of delicious food.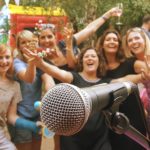 As we were waiting we couldn't help but notice the trampoline in the garden. It was an excellent idea. Rather than having a frame there was a big hole in the ground and the trampoline was sunken to ground level. It was brilliant and the kids loved it. The thought of heavy winds and injuries all gone. Sinking the trampoline seemed to be a fantastic solution. When the food had been served and everyone's tummies were happy we started with our first set.  For the first hour we played mostly to people sitting on the grass or chatting nearby. It was a chilled out affair. During the break we had the opportunity to catch up with Mr and Mrs Binks and yes they are still happily married so all was good.
The second set was a lot different to the first. The mood changed to party mode and everyone was dancing. A group of young girls were busy working out a dance routine on the trampoline. They came up to us and requested a song. They said "make sure you tell everyone to watch us, were putting a show on". This took me back to when I was a little girl. The dance routines and singing in my hairbrush. So when I announced the "Show" I told the audience "I've been asked to make sure your all watching so pay attention to the girls on the trampoline" This raised a few smiles. They received an applause and then kept on requesting more and more songs.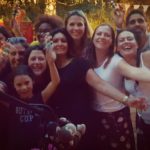 They party only really started get into full swing towards the end of the second set. I think with so many friends catching up they didn't realise the music was going to end soon. When we announced the last song, everyone was very well watered by this point. Alex asked if we were able to do another set. No worries, we'll be happy to oblige. The only problem was the party was due to finish much earlier so we didn't bring any lighting. By the time we finished our third set the sun was just about to drop below the horizon. We had a quick break and then broke into song for our third and final set.
There was encore after encore. After the 3rd encore we announced this really is the last song. We finished with a rapturous applause and again another request for "one more song". Although the lady shouting it seemed a tad tipsy and it sounded like she was shouting "one more thong". It was quite a long gig but turned out brilliantly. It was so nice to see friends and family in the comfort of their own home having a good party. We chatted to a couple at the end of the night who really enjoyed our set. Everyone had moved into the kitchen by this point and any left over food was being savaged and drinks were still flowing nicely.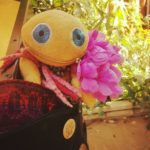 It was dark by the time we left and everyone was positively smashed by the end of it. Alex gave us a lovely bottle of fizz and a couple of ciders to take with us. There were hugs and she thanked us for going the extra mile. Overall it was a brilliant house party full of love, food, booze and laughter. As we drove off into the night with smiles on our faces, we were sure they would be partying till the early hours of the morning.
Happy birthday to Alex and a huge thanks for looking after us. Thank you to Wid for your hog roasting skills and to your wild audience for showing us their love. I wonder if that lady ever got her "one more thong".
If you wish to book live music for your venue, festival, event, wedding or party you can contact us HERE to check our availability