Wallasey Bronze Social Club, Wallasey. Another gig came though following an engagement party we performed at. We were asked to perform at an 80s themed party for twins Hannah and Robert. It was their 30th birthday party and it was all 80s.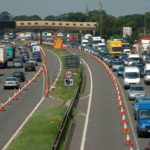 This morning we were in Cornwall so we spent 8 hours on the road travelling to the gig. We were stuck in a horrendous traffic jam on the M6 for a couple of hours. We left pretty early as you always have to anticipate heavy traffic. The traffic in hand was no thanks to the brilliant highways genius of having 18 mile contraflow in place. It's a death trap and has been the cause of many accidents. The lanes are simply not wide enough and it's quite hairy in busy flowing traffic. After being fed up with the traffic jam and time ticking away, our chance for an alternative route came. There was a junction and luckily the sat nav found an alternative route. Meaning we experienced some beautiful countryside on the way to the gig.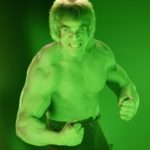 Once we arrived the venue was locked up and we realised we were the first one's there. Andy was becoming quite grumpy by this point. I've seen this before. He must be hungry. Seriously the Incredible Hulk has nothing on him when he's hungry. I can go without food for hours (I have plenty in reserve on my arse alone) but Andy is a different kettle of fish altogether. He's so placid and gently spoken when his tummy is full. Deprive him of food and he will seriously consider eating your arm. With this in mind, Andy nipped to the shop to buy, guess what, yes that's right a sandwich and some crisps.
He also bought some chicken bites which smelt distinctly of farts when he opened the packet. If you ever buy any, I think there called "Fridge Raiders" just notice how much they insult your nasal cavity when you open the pack. As with a fart, the smell blends in after a while, you just hope nobody will approach the van window and stick their heads in. Ha ha.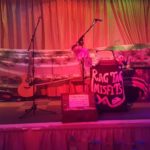 We waited for someone to turn up and open the doors. We were waiting for about 20 minutes which to be honest was fine. Since we had been driving all day it was good to have some time to gather our thoughts. Someone who looked like they had authority (well they had a key) turned up. So we jumped out, waited a minute for the smell of fridge raiders to disappear and introduced ourselves. They took us to the spot where we would be performing.
The room looked fantastic and a lot of effort had gone into planning the party. With balloons, photo collages, sweets on tables, blown up instruments and lots of colourful paraphernalia it looked perfect for a party. The theme of the party was 80s meaning all of the guests would be retro fitted with 80s clothing. This meant bright costumes and lots of colour. Since we were also providing the recorded music we had a great selection of 80s themed music for the guests. We were asked to learn an Annie Lennox song so we chose Sweet Dreams. A favourite 80s song known by most.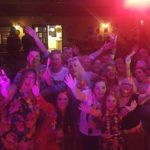 It was a fabulous party and everyone made the effort to dress up well. I think I saw Madonna walking around 3 times and George Micheal popped up once or twice. Towards the end of the evening the whole crowd joined in with the Locomotion. The whole party formed a train type circle around the room, it was lots of fun.
We played two live sets and everyone was just happy to dance and join in with the shakers. It turned out to be a lot of fun and we played our last song at midnight. Happy joint birthday Hannah and Robert and thank you Kristina for looking after us. I asked Andy to "Wake me up, before I go, go" so I wouldn't be falling asleep on the way home. No worries we'll grab a much needed coffee on the way back.
If you wish to book live music for your venue, festival, event, wedding or party you can contact us HERE to check our availability