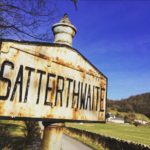 Live Music Lake District. Each year we play Grizedale Festival we almost always get to catch up with Paul & Suzzanne. They are in a band called "The Boggleband". Each year they also do a set at the festival. Paul asked us to entertain at a house party for his wife Suzanne. It was the second part of her birthday party. A bit like the queen having two celebrations. Suzanne deserved 2 birthday parties probably more than the queen does, so why not? Lets do it.
As the house was located in Sattersthwaite we knew roughly how to get there. If we got lost at any point it was tough. There is no mobile phone signal in this party of the country. Passers-by are quite rare. Unless you stumble across an intelligent sheep who knows the local haunts you're on your own. The sat nav can get you so far, but with houses spread across the landscape all sharing the same postcode it can become quite difficult. With a stroke of luck we spotted the organiser of Grizedale Festival going passed in his buggy. We jumped out and gave him a hug and he pointed us in the right direction.
It wasn't until we reached the road to the house that we realised how steep it was. Paul had seen us coming from down the valley and came out to greet us. Apparently there was a knack to driving up to his house so we were all ears and followed his instructions. As the little track bent round you couldn't help but think how I will get back down the steep incline that bends round and has a sheer drop on one side. Don't worry there is a way to do it Paul said. You'll be fine. It was still daytime at this point so the thought of reversing down in the dark after the gig seemed quite daunting.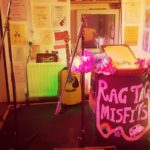 Once Paul opened the garage he took us through to his rehearsal room. It was kitted out with sound proofing and a glass roof with pictures of bands he had worked with over the years. It was a fascinating little room with a little stage and a full sound system and lights. We brought our own PA but Paul helped us out with the sound and allowed us to go through his desk making it pretty straight forward for us. Once we were setup we were taken through to his house and saw the lovely garden they had both designed.
Overlooking the beautiful Cumbrian countryside the garden was one of the best we've seen. It was like something from a National Trust site. With winding paths and rockeries, it looked stunning. Andy and I are quite outdoorsy (if that's a word). We really appreciate the beauty of nature and it's always an added bonus to perform in such a spectacular location.
After a while the guests started to arrive and the house was filled with folks. Arthur & Dahnell turned up and it was great to see them both. When we started to perform the room was empty. Since the rehearsal room is separated from the rest of the house we couldn't see our audience. It felt strange performing to the walls. As we started to play the room started to fill and the party was well underway. The room we were performing in was full of musical memorabilia so it had a great vibe. The sound was brilliant and the acoustics of the room were perfect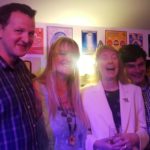 The room was very organised and everything in its place. It would be a fantastic room for recording and rehearsing. It would be brilliant to have a room like that. Just think of all the recordings, writing and videos you could do. If I had a room like that I don't think I would come out for days (or maybe weeks) on end. Its most musicians dream to have a room to go to where music is the only thing that exists. Paul & Suzanne are very blessed and I'm sure they know it and also make the most of it.
During the break Paul & Suzanne invited us up for some cheese and wine so we had a few nibbles and went outside to look at the evening Forest views. The stars were out in full force without a hint of light pollution. It was breath taking. The air is so clean and crisp. It wasn't long before we played our next set. Thankfully everyone came back through from the house and joined in the party. The night was a great success and Suzanne had a great 2nd birthday bash.
As we were packing up Paul asked us if we wanted a cup of tea. Oooh yes a cup of tea just what the doctor ordered. It was quite funny because the tea never made an appearance. We could hear giggling in the kitchen. I think Paul had nipped to India to get the tea. A man kept coming in and out announcing our tea would be arriving soon. We think down to a few too many vinos, Paul had forgotten how to make tea. Classic.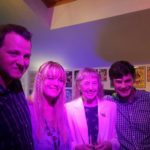 We were well ready to go buy the time the tea was ready so he suggested taking the tea with us. He told us "just take the cups, we've got loads". Knowing that Suzanne may not be too happy about this (and understandably) we brought our cups in from the van. We left cup of tea in hand with the daunting task of reversing down the dark hill.
Paul came out and led us down the hill, which must have used up all of his concentration. We were giggling as we drove off, I just hope Paul made it back up the hill in the dark.
Happy Birthday part two to Suzanne. Thank you Paul for looking after us, for the sound, the tea (and offer of tea cups) and for your great directional skills. Big thanks to your lovely friends and friendly for sharing their love and appreciation.  See you next year, until next time.
If you wish to book live music for your venue, festival, event, wedding or party you can contact us HERE to check our availability