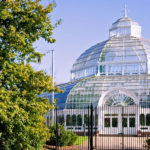 Sefton Palm House, Sefton Park, Liverpool. Today was the wedding of our friends Craig & Samantha. We have known Craig for many years and a few years ago he met the love of his life Samantha. Sam is a beautiful girl with a beautiful heart and is a perfect match for Craig. Their choice of venue was Sefton Palm house which was perfect for the chilled out couple. We are familiar with the venue as we have performed here several times before.
Even though we have performed here before we took a wrong turn in the park and waded through a few joggers and dog walkers and snuck the van through a gate that fortunately wasn't locked. Some bloke was laughing at us as I tried to open the heavy gate to save us reversing back down the track. After a short explanation that we had a wedding to perform at. I explained we were not on the rob for precious trees or benches (although Andy is a known for pillaging seeds) he seemed a bit more reassured as to white a white van was driving through the park.
We turned up quite early before the guests to ensure we would be set up in good time.   As we setup the staff were preparing the tables and we decided on a spot that would be suitable as the guests arrived. The venue looked stunning. Sefton Palm House has lots of tropical plants inside as it is essentially like a giant conservatory. Think the Eden project on a smaller scale.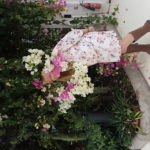 As the staff were setting up I noticed a strange and pretty horrible smell coming from one of the plants. I have a nose like a dog, not in the physical sense that it is black, cold and wet. That would just look weird ha ha. What I'm trying to say is I have a really good sense of smell. I was going to say something but another sniffer dog (sorry member of staff smelt it too).  After much deliberation and various members of staff sniffing the air we discovered one of the plants had stagnant water around it. There was a slight panic and one the maintenance men where called over. This really wasn't what they needed 40 minutes before the wedding party arrived. But that's nature and plants do choose their moments. In fairness they sorted it out really quickly and no one would ever know, if it wasn't for me writing this blog, but hey ho that's rock and roll for you.
An artist had arrived who specialises in sketching live weddings. He showed us some of his work and it was pretty impressive. A perfect touch to the day.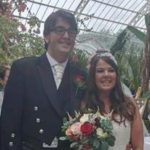 We opted to play under a large palm tree, luckily we weren't wearing green so we didn't blend in completely. Minute's before the guests arrived Andy started to get the shakes. We realised it was due to a lack of breakfast this morning. We had a busy morning and traveled straight to the wedding skipping breakfast and lunch. Andy and hungry do not go well. Luckily we were in the van and I had a stash of Belvita Breakfast bars. I ran out to the van and grabbed a couple and he munched them quickly before anyone arrived.
Smell gone, shakes subsided, equipment setup and room ready, we were good to go. The guests started to arrive.  As we started to play we noticed a bad sound coming from the amp. Agghhhh this is not what we need. The sound to everyone with a less tuned ear for musical equipment was probably fine. But it was bugging us. It was OK at a lower level but when we turned it up it started to crackle. I couldn't believe it. We had only bought the amp 2 months ago and it must have been faulty. It would happen at a crucial time like someone's wedding. We had to lower the sound slightly and we soldiered on and made the best sound we could with a faulty amp. I will be contacting the music shop as soon as the gig is finished.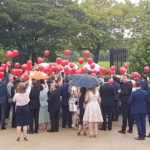 It wasn't noticed too much by the audience as they joined in with the party. Grabbing instruments they were warming up nicely. We saw a few familiar faces in the audience. Then we spotted Ross and Helen. Ross and Helen are also friends. Ross was sporting a kilt keeping up with his best man duties ensuring everything was running smoothly for the arrival of the bride and groom.
The theme of the festival was Scottish and music. The guests were eagerly waiting and then bride and groom arrived. With a big cheer they entered the room. Sam looked stunning in her beautiful dress and Craig looked rather dapper in his kilt. We performed for an hour and stopped for a short break.
During the break we caught up with Craig and Sam and wished them well. It was now group photo time outside. During the photographs they released a load of heart shaped balloons and it made for a great picture. Photographs at a wedding are always funny moments. Trying to get the attention of all the guests at the same time can prove somewhat difficult. There's always lots of giggling and messing about as the photographer tries to keep their cool.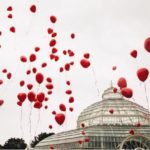 When the guests arrived back in it was time for some more live music. We played for another hour as the guests waited to go in for their meal. The meal was running behind and there was some sort of delay so we did an extra 20 minutes to keep the guests entertained.
Since Craig is of Scottish blood and we saw a table labelled with 500 miles we decided to finish on the song 500 miles. Everyone jumped in to it and started bouncing around. As we were performing it Sam grabbed Craig and started to dance with him. Craig said no, no and we thought we'd made a big mistake. I can't remember him saying this was his first dance song.  Cutting the song short we were hoping and praying it wasn't their first dance song and we had just ruined the moment. Thank goodness it wasn't. The reason Craig said no is because he wanted to save the first dance till later on in the evening which is understandable. Sam already had her dancing shoes on and was rearing to go.
It was a beautiful wedding for an adorable couple. We had an invitation to attend the evening function but unfortunately we had a gig booked in elsewhere so we were unable to join them.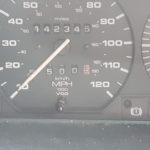 It's nice to see Craig (pheasant boy as we call him, don't ask) happily married. He's a sweet guy and loves his music so we are very happy for them both. Huge congratulations to Craig and Sam, we wish you all the very best for the future. Thank you for asking us to be part of your special day. Here's to a happy, love filled and adventurous life together. I'm sure we'll see you again soon, doing your pheasant impression I hope, just watch Andy doesn't catch you this time and lock you in a cage. With the wedding being Scottish themed, when we left it was ironic that our milometer in the van was at 500 miles.
If you wish to book live music for your venue, festival, event, wedding or party you can contact us HERE to check our availability