Bluecoat Chambers, Liverpool. Our 3rd and final gig of the day. We arrived at the Bluecoat in a haze of traffic and a noticeable disregard for the highway code. It seemed the reason for the intense traffic was due to arrival of the tall ships in Liverpool. Proudly docked on the River Mersey  the tourists were flocking in to witness these magnificent vessels. The intense traffic also meant difficult parking.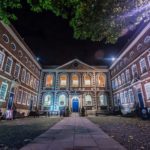 The Bluecoat Chambers is an old listed building and a beautiful choice for parties and weddings. With a chilled out bohemian vibe right in the heart of the city centre it really is a stunning venue with great acoustics. Since we have performed at the Bluecoat several times before, we were familiar with the loading situation.  It's a complicated process and can be quite time consuming. Firstly you have to drive into the pedestrianised area, through a set of pedestrian lights. This is a challenge in itself. Disgruntled pedestrians look at you in disgust. Shaking their heads at you as if you've just let your dog take a giant dump with no poo bags in the middle of a children's play area in a park.
You have to see the funny side of the awkwardness of some people. This is their domain. A pedestrian domain and we are nothing but a smoking white van in their nice breathable environment. Apologising profusely you have to be very, very careful not to mow anyone down. You get the strangest of looks from people as you're doing this with your hazard lights flashing. Next you have to walk around to the front and asked to be let in.
Eventually we gained access through the loading bay and we unloaded the van onto the infamous Bluecoat trolley. At this point due to time not being on our side we decided to split our duties. Since the equipment was pretty heavy in one load Andy decided to take the trolley and I would find parking for the van. Reversing out into the pedestrianised area is more fun than pulling in. At one point I was tempted to stick my head out the window and make a beeping sound like a reversing truck. Eventually I got back on the road with the mission to find parking.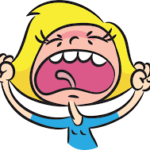 In Liverpool on street parking is free after 6pm which can save you a small fortune. So feeling confident I drove around looking for a space to park the van. With the tall ships being on the River Mersey, parking was extremely limited. I would go so far as to say you had more chance of finding rocking horse shit in one of the Tall Ships.
After driving around for 15 minutes alas I found a space. I weighed it up with my (not so good) spatial awareness. Yes this will do. It was a busy road so I had to time it just right before I attempted a parallel park with this beast. Off I went. I swung it in and it was straight with approximately a 2 foot gap at either end. Andy would be proud, or maybe not. One problem. I was approximately 4ft away from the kerb and the van was now parallel parked but halfway in the road. It was then I realised I was stuck and I was on my own with this one. No Andy to give me hand signals on the gaps at either end.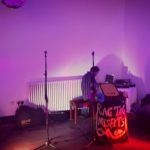 Starting to panic on this busy road I jumped in and out of the van like a frog in a kettle in between each movement. I was getting pretty flustered by this point. It was no good. Eventually the heavens sent me a relatively sober couple who spotted my predicament and helped me park up. The bloke said to me "I'd do it me self girl, but I've had too many bevvies" To all the non scousers out there this translates to "I would park the van up for you sweetheart, but I'm slightly inebriated".
After finally parking up and half an hour later, thanking the couple over and over I ran back to the Bluecoat. It didn't seem this far when I parked up. I was about half a mile away. Jogging back (well that pathetic jog you do when you half run) and wishing I'd kept a spare sports bra in the van I eventually made it to the Bluecoat. When I arrived I was sweating like a sumo wrestler in a sauna.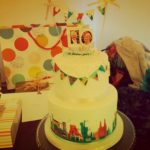 When I arrived Andy was only just setting up. It seemed that he had been in a predicament of his own. We usually perform upstairs in the main room of the Bluecoat. Not this time. So Andy was searching the whole venue for our performance space with a dodgy trolley in tow. With no one in sight to direct him at the venue, finding the room was a somewhat troublesome affair. After some time and travelling up and down in the lifts trying the different levels with a trolley with no sense of direction he eventually found the room.
When we reconvened it was all hands on deck to set the equipment up.  Setting up as fast as possible as the guests were about to arrive, it was imperative to do a sound check and get the recorded music started ASAP. Lights, camera, action. Just as the guests arrived we managed to get the recorded music going just in time. Phew.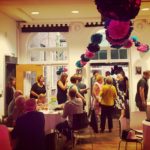 As we tidied up with our old reliable gaffer tape (a must for every musician – I could write a whole blog on the importance and the many uses of gaffer tape in your gig bag) we met the lovely Caroline and her lovely sparkling personality. Such a sweetheart with a smile from ear to ear. She had put a lot of effort in decorating the room, pompoms and buntings galore. We discussed set times and she introduced us to her parents Vic & Lynne (who were also lovely people). Some people just stick in your mind with their positive outlook and funny antics. Tonight was going to be a good night.
We started our first set performing for around an hour. We always say the sets are 45 minutes but we like to go over if there is time. This way the client always gets value for money. It was a wedding anniversary and special birthday combined. The double celebration was off to a flying start. Everyone was singing along and there was lots of banter. I love banter as it helps to interact with your audience.  We stopped for a break and a buffet was served. The room filled with the scent of delicious food and there was a stampede to the buffet (there wasn't really but I always imagine what it would be like if guests started to rugby tackle each other for the last pork pie).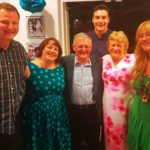 During the break we played a couple of recorded songs Caroline had requested for her Dad. One that stuck in my mind is "Time in a bottle" by Jim Croce. I absolutely love this song and it was added to our "to learn list" after the gig.
After the guests were all munched out, we kicked off with our second set and the audience were in full swing. We started off with a rendition of happy birthday. In the key of C (as always) and we all sang the most recognised song in the world. Wouldn't it be great to own the royalties to this song sat back on your yacht drinking a Pina Colada (I've never had a Pina Colada actually, I must put it on my bucket list). The cake was lit and a wish was made before they blew the candles out. Since the dancefloor was already full we kept the guests there for more stomp filled fun.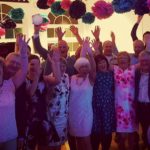 After we played our second set we continued the night with some party music until closing time at just after midnight. I won't talk too long about the setting down and exit from the gig. In short it involved another pathetic attempt of a run back to the van, a dodgy trolley, driving down a one way street with the police at the other end (who luckily turned a blind eye) and the staff waiting outside to get the trolley back. It was a conundrum but well worth it. Our 3 gig day was done.
We would like to thank Caroline for booking us, your beautiful friends and family for their love and participation and The Bluecoat Staff for being so welcoming.  Huge congratulations to Vic & Lynne and we hope you have years of many more happy memories together.
If you wish to book live music for your venue, festival, event, wedding or party you can contact us HERE to check our availability