Grizedale Rocks. Its that time of year again were we head up to Cumbria to perform for the legendary yet relatively intimate Grizedale Rocks Festival.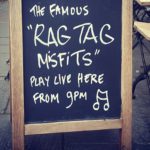 Our performance at Grizedale Rocks was to be on the Saturday night. We arranged a gig to coincide on the Friday night at The Queens in Hawkshead since we would be travelling to Cumbria.
We drove up on the Friday night arriving in Hawkshead an hour or so before setup time. Immediately we saw the chalkboard outside notifying people we were performing. The sign made me laugh. It read "The Famous Rag Tag Misfits". I loved it so much that I was compelled to post it on Instagram. I always joke that we'll always be famous to our Mums. You've got to love the sense of humour of the staff at The Queens.
The pub is always busy throughout the year with tourists staying in the hotel above the pub. The rooms in the Queens Head are very well maintained and each room has a bespoke feel to it. They are modern yet quaint and we would definitely recommend staying here if you're ever in the Hawkshead area. People visit from all over the world book in and they are always a brilliant crowd. A lot of people come to visit the famous Beatrix Potter sights. To think that she grew up here and was inspired by the beautiful surroundings in her stories. Peter Rabbit and Jemima Puddleduck were nowhere to be seen though. They must have been in bed by the time we arrived.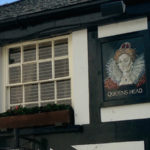 We always receive a warm welcome from the staff who always have a smile on their face. Since we have been performing at The Queens for many years now and we feel like part of the family. Its always a pleasure to perform here and they always look after us. Both our sets went down really well and a great night of live music made sure the guests had a brilliant night. They are always an encouraging and appreciative crowd. We finished up our sets and headed over to the staff house to bed down for the night.
The next day we had our breakfast courtesy of The Queens. It's worth travelling all this way for the breakfast alone. The food is divine here. Products are locally sourced where possible and subsequently it's not the type of place where you would find any frozen chips. I suppose I would describe it as fine dining in a dog and wellington boots friendly pub in cosy surroundings. After saying our farewells and thanking the staff we set out to see the sights of the Lake District.
Since we had a bit of time to kill we tried to think of a place we had not yet visited. We've been coming here for many years but there is still so much to see and do. It's like a giant outdoor playground which is right up our street. The Lake District is truly a lovely place and deserves world heritage status that guarantees that the area be preserved for the next generation. We decided to visit a place known as Cathedral Cavern in Ambleside. I am so glad we took the time to visit this wonderful spot.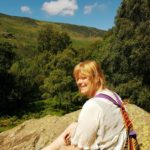 We parked up about a twenty minute walk from the attraction and headed out into the cumbrian wilderness. Stomping down a beaten track saying hello to every passer-by. To be honest we must have looked a little bit mental since we only had our leather jackets and gig gear with us. Not the typical dress code for ramblers. Next time I will be packing a pair of red socks so I can fit right in. I suppose the red socks separate the pros to the amateurs (us in this case).
When we arrived at Catherdral Cavern we were blown away. Lots of little coves and tunnels with a huge big cavern as the main attraction. Of course we had to test the acoustics. They were simply out of this world. Singing at the top of my voice admiring these acoustics, I was stopped dead by a pounding Labrador heading straight for the pool of water in the middle of the cavern. The cavern became busy with tourists so we made our exit. It was time to head over to Grizedale Festival.
It's high summer and the longest day of the year has just passed by. Children have broken up from school with six weeks of summer holidays to look forward to. Free range kids have taken over the campsite and the water pistols are in abundance. Kids with buckets of water balloons look at me with their wet mischievous faces. Camping is on the minds of many families and the sun is shining. The weather is looking just fine (that's got to be said in a Southern American accent otherwise it just wouldn't sound right).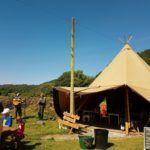 This year's Grizedale Rocks in the Lake District and has been arranged a month or so earlier this year. A fun weekend with lots of live music and wholesome organic food produced and sold on site. New this year is a beautiful Tipi. The central attraction to the campsite. Inside you will find an assortment of delicious cakes and ice cream. We could see our usual spot in the cow shed was being tidied up from the live music from last night and prepared for tonights music.
As we arrived we immediately saw the owner and his fiancée who seemed who have a confused look on their faces. We gave out big hugs and then became aware as to why they were so bewildered to see us. It seemed there had been a misunderstanding over dates. They thought we weren't coming and were relieved to see us. They thought we were playing on the Friday and not the Saturday. It became apparent that because the dates had been changed a month earlier the dates had been mixed up. No one was to blame and we were all very relaxed about it. With their relaxed demeanour they simply said "no problem you're here now, what time do you want to play?" We are good friends with the owners so they knew by my horrified look it was all very genuine.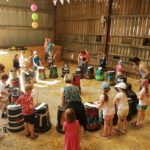 As we settled in and absorbed the vibe of the festival, the owners were very proud of their new construction of the Tipi. Once entering we noticed that they also had bacon and sausages for sale all produced on the farm. That's our breakfast sorted for the next couple of days.
We decided to take a walk over to where we would be performing and to introduce our self to the sound guy. We noticed a guy setting up a drum workshop. Yay I was in heaven. Sometimes we run the odd drum workshop so it was good to see how others do it. While we waisted we enjoyed the barn in the peace and quiet knowing the chaos that was to come. As we started whacking the bins, children started to appear to see what the noise was about. It was really good fun and very noisy. Therefore I think by the end of it the guy who was leading had near on lost his voice. Trying to control twenty odd kids with drumsticks and drums is pretty tough. Believe me the concentration span of a child is to just whack the nearest thing to them.
There was an eclectic mix of bands booked in tonight. Our friends Paul and Suzanne from The Boggle Band was down for a set and it was good to catch up with some familiar faces. We were due to go on at about 8pm just as it was going dark. We did a sound check and the barn was filling with eager looking faces. There were quite a few familiar muddy faces in the crowd and lots of smiles.
The festival is hugely popular and only so many tickets are available each year. Potentially the festival could be ten times bigger in terms of crowd/campers although the organisers are happy with the current capacity. I suppose it would become a huge hassle and the more people, the more complicated things become.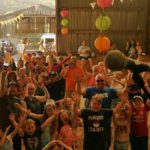 Our set went down brilliantly. The audience were amazing. So with dancing, cheering clapping and a few "wahoos" it was a pleasure to perform. Since we are a 2 piece we usually go on before the big bands. This is fine with us as headlining is not all it's cracked up to be. With our set over we can now enjoy the festival and have a drink or two. We cracked open the cider and enjoyed the remaining of the night. Problems started to arise when we ran out of cider (we had been sharing it with most of the campsite) and we realised we had a bottle of dark rum in the van.
It was all systems go. As a result we danced the night away. We are not big drinkers and unfortunately as the midnight hour passed Andys colour started to change. He told me "I'm just heading back to the van to get a top up". I carried on dancing and 5 minutes, then 10, then 20 minutes passed by and Andy was not in sight. Andy never returned.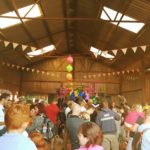 I decided to call it a night. Since I had been dancing for a few hours I think the alcohol had taken less of an effect on me. When I returned to the van he was in bed fully clothed, fast asleep and far away in dreamland.
The next morning we arose to a lovely breakfast prepared for us. So we sat out in the sunshine and decided to leave it a good few hours before heading back. Huge thanks to everyone at Grizedale for having us. Most of all to everyone who supports live music. We look forward to next year…
On a final note heres a quick video of our performance taken by one of the audience…
If you wish to book live music for your venue, festival, event or party you can contact us HERE to check our availability