Hawkshead Christmas Festival. Christmas time mistletoe and mulled wine, Hawkshead singing Christian Rhymes. I could continue with the whole song replacing words but I don't think Sir Cliff Richard would thank me. Yes it is that time of year again. Christmas is  just a few weeks away. This time of year is a busy one for us, entertainment flying out left right and centre. It's a time when schools, universities and offices wind down with Christmas parties. It's time to let their hair down and relax. For musicians it's a time to get going and for some nonstop musical action.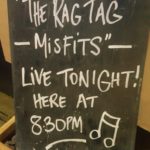 Which is fantastic for us by the way, because come January, the lull hits you. January for us is a time to catch up and write. Our first gig was at The Queens Head in Hawkshead. We were booked for 2 gigs and had another one in Liverpool later that evening. We were to perform on the Friday night with the next morning being the annual Hawkshead Christmas Festival.
As people from all over come here to enjoy what is the Lake District. This fairly quaint little town gets its fair share of the many tourists visiting the lakes throughout the season.
The hotel, being rather old doesn't have much room to manoeuvre when it comes to setting up your equipment. It's very cosy so you have to carefully unpack trying to keep out of the way of staff and punters. It makes setting up the gear slightly more challenging.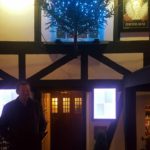 This time of year we also have to consider a tree. It's a beautiful Christmas tree sparkling in all its glory but unfortunately due to the space in the hotel it has nowhere else to live. Except in the middle of the performance area. It takes careful preparation and lots of gaffer tape to manoeuvre our setup. We had a word with the tree and reassured it that we would try not to damage its baubles and a compromise was made between us. We would temporarily relocate it a few inches back.  Alas armed with our gaffer tape we did it without tripping anyone over (where's there's blame, there's a claim). We are happy to say the tree continued to sparkle.
The meals at the Queens are always popular with locally sourced food it smells divine. Tonight we would be staying in the hotel and I can definitely vouch for the breakfast from previous gigs. Once setup we took our bags up the room. Wow, the room was beautiful. They have been refurbishing the rooms and this one was spotless. You really wouldn't think that this hotel was over 400 years old. After a nice cup of tea (oh we are so rock and roll) we headed back downstairs to entertain the lovely people of Hawkshead.
As we started to perform people were still eating so we opted for a background feel, laid back, chilled, don't mind us type of feel, yeah just chillin…. Our audience were very appreciative of this approach and were enjoying our more mellow numbers as we like to call them.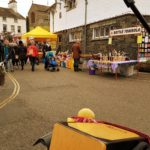 It was fairly busy with tourists for the time of year so after the meals and desserts, the pub was quite full so we played some more upbeat numbers. Although it quietened down by the end of the night it was a nice little gig with an appreciative audience. I expect everyone hit the sack early in anticipation for the infamous Hawkshead Christmas Festival.
The next morning, having had a lovely nights sleep in the hotel we woke up early, had a nice hot shower and went down for some breakfast. The breakfast here is devine and cooked to perfection.
Seriously this isn't like your greasy spoon special. It comes with the finest quality sausage, bacon and black pudding with a perfectly cooked free range egg. Mushrooms, tomatoes, toast, cereals and even little sachets of Marmite (mmmm). This is not the only option on the menu but we always go for the full English, it would be a crime not to. The breakfast sorts you out for the rest of the day, perkes of the job.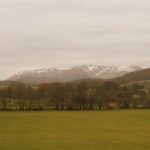 As we finished breakfast our thoughts turned to the Christmas Market and the many stalls being setup around the village. Since we had left all of our gear in the pub overnight it dawned on us that driving the van through the village would be tough if not impossible. By mid morning much of the North West's Ramblers Association and hordes of tourists had flocked into Hawkshead making it impossible to get through. The van was parked some distance away therefore the pub offered to lend us a trolley. Tah dah, trolley dolly to the rescue. It was a bit tricky to load and manoeuvre through the crowds but we did it.
One day we may have roadies but until then it was up kerbs, down kerbs, oh sorry, excuse me, aggh watch that doesn't fall off. Who said being a musician was just about turning up and playing? Luckily we did it all in one trip and didn't have to carry it piece by piece.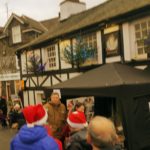 The Queens Head Hotel had a little marquee setup outside the pub so were preparing hot food and selling warm mulled wine and brandy. With pulled pork and slow cooked beef stew the smell was making our mouths water. Even after our lovely filling breakfast. Nonetheless we have a couple of hours performing to work our appetites up. It was early yet but Val & Jane (the owners of The Queens) were in full swing and warming themselves up with the mulled wine and brandy. They offered us a tipple of this steaming tasty mixture. It was medicinal as it was pretty cold outside and surely it's better to warm up from the inside out. I have to say the mulled wine and brandy really packed a punch and I'm glad I only asked for a small one. It did the trick though and warmed my cockles right up.
With the crowds beginning to queue for the delicious foods and with various craft stalls scattered around the village, it was time for us to perform outside the pub. It didn't take long to setup our pop up acoustic gear and before long we were in full flow singing Leonard Cohen's Hallelujah. It seems amazing the amount of people this small village attracts. But then again it was a really varied market with a lot on offer.
We were playing for around an hour when we heard the crashing thunder of drums. It completely drowned out our little amp but sounded fantastic. It was the sounds of The Bay Beat Street Band. As we looked down the street we could see them with a brass section and various drums performing Christmas songs. They sounded brilliant.
We stopped to allow them to perform and after about ten minutes they moved through the village to entertain the crowds. It was time to fire back up for us. So off we went. About 15 minutes later we heard them coming again from a different direction. As they approached us they saw we were mid song and one of them signaled the others to stop. They moved up through the village and continued to play in a different spot. Huge thanks for your respect, it didn't go unnoticed. It really was considerate of them and we would have done the same for you.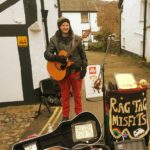 Going off track a bit, I say this because in a similar instance sometimes when you are busking you get the odd ten piece Hare Krishna bands turning up. Now, the The Bay Beat Street Band are obviously not a Hare Krishna band but it's of similar volume.  You see, it's happened to us on several occasions when we've been busking they turn up playing at full volume and just set up opposite or next to you. It's a public space and no one has the right to own it I get that, so we are no different. When we are setting up we try to be as considerate as we can to the people around us.
It may be bold of me to say and I understand they have beliefs and want to spread the word and love. But I just can't help feel infuriated by their selfishness. If they were to walk past performing and go out of earshot that would be fair enough.  But they don't, not in my experience anyway. They just smile at you and carry on regardless. It becomes a battle of sound and to be honest what can you say if it happens. If it were another busker you would be able to compromise with them. But for some reason with a Hare Krishna band you feel as though you just have to let them be. For us it usually means game over and we have to pack up, move on only to be hit by them again when they decide to move to your new spot.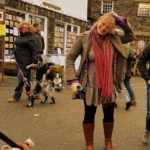 Now let's get back on track to the Hawkshead Christmas Festival. Our set went down brilliantly and we sold quite a few CD's. The village was very busy, the food was delicious, the entertainment throughout the village was excellent, the people were friendly and although it was cold the sunshine had his hat on for the day. Overall a great success.
Sadly we could only stay for two hours as we had gig for a private party in Liverpool to attend in the evening. After we played for a while we were offered some delicious hot pot. It was welcomed with open arms as the yummy smells of the food were tormenting us throughout the performance.
Big thanks to Val, Jane and all the staff at The Queens Head for a wonderful time and thanks for looking after us.  We shall see you on New Years Eve with some party numbers.
If you wish to book live music for your venue, festival, wedding, event or party you can contact us HERE to check our availability