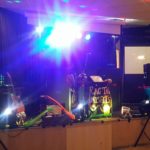 Tonights venue is St Benets, Litherland in Liverpool – After driving back from our gigs in The Lake District tonight was the double celebration, it was the birthdays of Diane & Gary. Arranged by their daughter the very organised and sweet Hannah. Hannah did a great job organising the party. With the venue, the catering, decorations, a DJ, live entertainment, invites and all of those lovely little touches that makes a party personal. It was going to be a good night and hopefully one to remember.
When we arrived at St Benets in Litherland the door was locked. After banging on the door for a while a man came to let us in. We explained we are the band etc., etc., so he showed us the room we would be performing in. He had to lock the door every time we came in and out which is obviously quite time consuming with a van load of equipment. As we went through to the room it was beautifully decorated but not a soul in site.
There were things on the stage and I didn't know if it was a resident DJ who would be performing or if they had outsourced one. Therefore we were unsure on how much space on the stage we could have.
About 15 minutes later the DJ arrived and introduced himself as Tony from TK Entertainments. There was a bit of confusion as to were we would perform as Tony told he had quite a lot of gear. There was talk from Tony of us setting up on the dance floor but Hannah insisted she wanted us on the stage as she predicted the dance floor would be full later on with guests.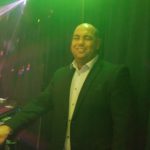 There was quite a lot of people going to be attending so we worked it out with Tony and assured him we don't need much room and everyone was happy.  After we worked out that we could both utilise the stage we began setting up our gear and TK Entertainments did a fantastic job providing excellent lighting and visuals for the birthday celebration.
He wasn't kidding about the amount of gear he had and told us there was more back at home. Seriously, he could do a light show for Wembley. It was fantastic. Working as a team and re positioning some furniture the stage was set. Sound check done and we were ready for the party to begin.
Tony started warming the guests up and introduced us as the act for the evening. This was our first time working alongside TK Entertainments and if ever you are looking for a DJ for your party he's your man. He's a lovely man, really helpful and considerate. He tweeked his lights to suit our performance and checked our set list so he didn't play any of the songs we would cover.
This is quite important as at one gig a couple of years ago we were performing alongside a DJ and we finished on a song. He then proceeded intentionally on playing exactly the same song but the recorded version. Not quite sure what that was all about.
T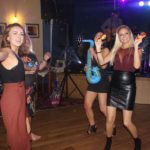 he first few songs sounded great. It was a large room for us to fill and around 170 guests turned up. Thankfully the sound carried across perfectly with the Guitar, Drum and vocals. Our new QSC' speakers smashed it. Loud yet the clarity was brilliant.
We started the party off well and the younger ones seemed to be up for a dance first. With the excellent sound and amazing visuals the party was soon getting underway. After finishing our first set we announced "The Buffet is open". With a few rugby tackles and broken arms everyone ran over trampling on anyone who got in their way to get to the food. Obviously I'm only kidding but can you just imagine if that did happen.
The buffet was delicious and catered for everyone. Between the price of drinks and the entertainment, the buffet is one of the talking points of a party. I can say with all certainty this buffet was fit for a king or two Rag Tag Misfits looking for a little nibble.
Before the second set we performed a song I think everyone in the world knows the words to. Happy Birthday (imagine owning the royalties to that one). The tune to Happy Birthday was actually taken from a tune called "Good Morning to All" and is attributed to Patty and Mildred Hill. Apparently the big boys  over at Warner/Chappell Music own it now. Dating back as far as 1893 there have been disputes to the original tune so we'll leave it at that. Maybe they will send the ownership rights it to us in our next birthday card.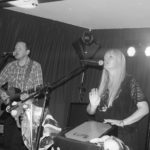 After a great version of happy birthday in the key of C was performed, the candles were blown out, there was a few speeches and the dance floor was full. This was our chance. Lets keep it filled with the classics. So we burst into our upbeat numbers and I'm happy to say that is what happened. Unfortunately someone spilt quite a large drink on the dance floor.
The dance floor was temporarily out of use, but that didn't stop them. They just moved onto the carpeted area and continued to dance. After a while someone came over to mop up the mess, but by the time they did it was too late as our set was nearly over.
It was time to leave the lively audience in the hands of the fantastic Tony. I feel it necessary to mention the professionalism of Tony at this point. In the past we have performed alongside many DJs and they are a mixed bag. One of the things I loved about working alongside him was he didn't feel it necessary to over power our performance. You see with a DJ its easier to crank the volume up to maximum level and drown most musicians out. With instruments feedback can become an issue when your trying to compete with a DJ even if you dont want to.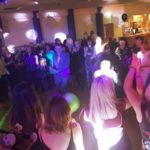 Sometimes there are just too many ego's in the room and I can't stand big ego's. Tonight this wasn't the case, the volume levels were perfect. They worked in harmony so the volume was consistent all night and a lively and pleasing level for the audience. He waited until both of our sets were finished before the volume was cranked up a little more. He finished the evening off with some fantastic song choices and kept the dance floor filled till the end.
As we were packing up we were approached by an estranged woman in a rain mac who entered from the public lounge. She kept asking me how much the DJ charged. I explained I'm with the band so I'm not sure. I told her she would have to speak to him. But she just kept asking me the same question. She told me she had already spoken to him, but how much does he charge? Again "I don't know". Then she told me"I have his business card and I'm going to phone him".
Horaay, thinking I'm finally making progress in getting my point across now and guess what she said? You'll never guess "but how much does he charge?" I said "Really I do not know" in which she replied "well if the price is right, I might have some work for him for my birthday party" Classic.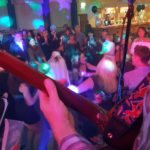 With Tony's lights out and most of our equipment packed down we were suddenly in darkness. Usually in a venue they just turn the main lights back on, but nothing. It had been 10 minutes since the party had ended yet there was no one to be seen. It took me another 10 minutes to find anyone to turn the lights back on from behind the bar. I seriously could have had a private little drinking session for free if I was that way inclined. Then it was light, cameras, action, yay we can see.
All in all it was a brilliant gig and we had excellent reviews from Hannah and her guests. It was an absolute pleasure to work alongside Tony from his company again TK Entertainments you can find a link to his website HERE.
Huge thanks to Hannah for booking us and were so happy all your hard work paid off. A big thanks to all your lovely friends and family for making us feel so welcome and your kind words.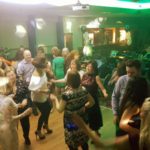 Diane & Gary a big Happy Birthday to you both and I hope you had a fantastic evening to remember. We may see you again soon as one of your fiends has booked us for another party in the New Year.
Until next time…
If you wish to book live music for your venue, festival, wedding, event or party you can contact us HERE to check our availability