St Pauls Church Hall, Goose Green near Wigan is our destination tonight. Sometimes you just need a party for no particular reason. Such was the case with this party. We were asked to perform by the beautiful Jacqui and her friends of the church. When we asked what the occasion was she answered simply "nothing in particular, we are just celebrating being alive".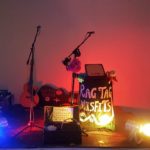 The party was for the parishioners of St Paul's Church, Wigan and everyone was invited. When we arrived we were greeted by the lovely Jacqui who booked us for the evening. Jacqui was just finishing off some last minute alterations to the decor and it looked stunning. The tinfoil covering the stage opening was the best, it was so original and really effective with the lighting. We had to be very careful not to tear it as we set up. Lots of thought and love had gone into the decorations.
As people started to arrive we soon realised this party wasn't your run of the mill, generic, conservative Christian type of event. Oh no this was a party for an upbeat bunch who wanted to party like anyone else on a night out. We were offered assistance with anything we needed. Jacqui previously arranged our favourite tipple was ordered in for when we arrived. Cold Guinness and cider awaited us in the fridge.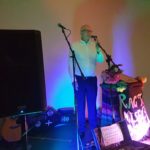 The average age was mixed. They were certainly a mixed crowd and very energetic. So with the room full we started the background music in preparation for our first set. A large buffet was beautifully arranged at the side of the room, covered in cling film ready for the interval. Bottles of wine were opened, the stage lights were on and all you could hear was chatter and laughter. This was going to be a good party.
As we played our first set we noticed everyone joining in. From the first song people were on the dance floor and the percussion box was empty. We played our first hour and then it was time for the buffet and raffle.  Jacqui invited us to help ourselves to some food in the break whilst the raffle was about to be drawn.
Since they used our PA to announce the raffle we waited on the side lines ready to go straight into our first song of the second set. With a warm welcome we returned to the stage. They were straight on to the dance floor. They were all dancing along like it was the last day on earth. It was brilliant.
We donated a couple of CDs for the raffle and kept joking how we had donated a boobie prize. Obviously the whisky, wine and beautiful plants were the first to go. Then in our amazement someone chose our CDs and they were very happy to have received them. It was quite a giggle as there was lots of confusion with ticket colours and how many prizes people were entitled to. A couple of people shouting "Fix, fix, fix" as one of the organisers had a winning ticket. It was so light hearted.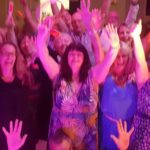 After the party we received so many compliments. Jacqui told us people were asking when we are returning for the next party. It really was a fantastic gig and such a pleasure to meet so many kind hearted people. The room was bursting with love. At the end of the night we had been given a beautiful arrangement of flowers and a bottle of wine to take back with us. A great gift, a great night for a beautiful bunch of people. May God bless you all. Until next time.
If you wish to book live music for your venue, festival, event, wedding or party you can contact us HERE to check our availability