Parbold Festival, Parbold. As the spring makes way for the summer it seems that towns and places adopt the word fest, stock, glasto or festival after its name. Driving along you will see adverts for different festival themed events. Lamp post Fest,  Pond Stock, Glasto table etc., (obviously I've just made them up, but your get the picture). In Parbold this particular festival is known to locals Sunshine Sunday. Some of the events are starting out whilst some attract lots of people. It is usually an opportunity to bring the community together and raise funds out of any profits for a local cause.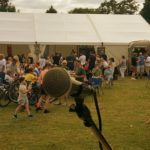 Sunshine Sunday is a festival in Parbold, Lancashire where we were booked to perform for 2 sets on a nice Sunshine Sunday afternoon. The location is Alder Lane playing fields in Parbold the music side of things was organised by Jed. The festival this year was in memory of a tragic and devastating accident where a young local teenage boy Louis Simpson lost his life in a fire in a barn. It was a heart breaking incident for his family, friends and the community as a whole. Jed informed us the festival was in his name we told him we would be honoured to play.
When we arrived we could see parking could be a problem. As we approached we drove name a narrow lane and approached some hi-vis gate security staff. We informed them that we needed to get near the stage. They told us to drive onto the field. They escorted us along the field passing hoards of crowds and straight through a football match. Erm…sorry about that everyone, we were just following the man in the yellow coat. Parking up just behind the stage gave us easy access to unload our gear and setup. It was really busy and there was lots of stuff to do with stalls and activities for the kids. The stage for the band was a curtain styled HGV in the middle of the field.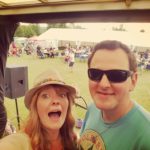 As we got our equipment on to the stage ready to play we had a few difficulties with the sound. It's always difficult when someone else is doing your sound as we know exactly how we like it. The sound can make or break your performance. Trust me never rush a sound check. The audience won't appreciate it and make no compensation. It really can affect your performance and for any musicians out there its handy to know your settings so you can relay to the sound engineer.
A sound engineer was sorting the monitors out for us and we had to put some effort in to get the sound just how we wanted. In the early days of performing, I'd be like "yeah that's cool, that will do". Several years (and sound checks) later, we are somewhat sound divas and like it to be spot on before a performance.
The sound engineer was happy to oblige. Once we were all set up we performed to a few hundred people who were as Kelly Jones would say "sitting back head on the grass, having some laughs". My mum always says to me "don't you get nervous playing in front of large audiences?" The truth is, it's the more intimate audiences that are more nerve wrecking. I rarely get nerves anymore. Its more excitement which I think is good for any performance. It creates a nice energy on stage.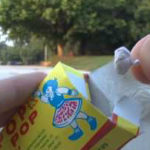 We mixed the songs up so everyone of all ages could enjoy. Our set went down well. We noticed the bar wasn't that busy. This usually means  drinks are a bit pricey. It seemed that Bang Snaps were more popular. Kids throwing these snappers at any hard surface they could find.
After our first set we again adjusted the sound. Andy recently bought his pride and joy. A Gibson J45. This meant though he was still learning how to find the sweet spot. It was still a work in progress. Our next set sound was much better and we noticed our families had rocked up as well as some loyal friends. I don't really like to call people fans. I'd sooner call them friends. We like to get to know people who come to our gigs. The beauty of social media means we are able to stay in touch.
After we finished our set we watched some more bands and soaked in the summer sunshine chatting to familiar faces. It was a lovely weekend and it was brilliant to see a successful and well organised festival in the name of a beautiful boy. Thank you to our lovely audience and to Jed for sorting the sound out. Well done to all the organisers and our thoughts and prayers are with the family and friends of Louis Simpson.
If you wish to book live music for your venue, festival, event, wedding or party you can contact us HERE to check our availability