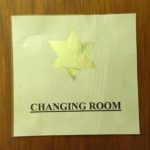 Live Music Party Preston, Lancashire. Today was the celebration of Vicki's special 50th birthday party. Vicki saw us performing at Skelwith Caravan Park in the Lake District for a Bonfire Night bash. She asked us to perform for her big day at a venue in Preston near to where she lives.
The party was booked 12 months in advance. Vicki was so excited and a lot of planning went into her party. Vicki had phoned us a few times to keep us updated with what was happening, how many guests would be attending, venue arrangments and wished us all the best for our wedding day. She really was a joy to talk to. So down to earth and after all our conversations had ended on the phone there was always a big "ahhhh shes so sweet and kind". A proper little ray of sunshine.
So when the day came we headed up to Preston to find our venue for the evening. The back of the venue itself was a little tricky to find. When we arrived we were greeted by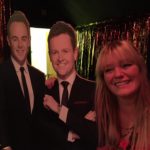 a life size card board cutout of Ant & Dec. We did the usual checks of power points etc., and we even had our own VIP room. I looked around for the Egyptian cotton towels and the fresh Roses that I'd added to my rider requirements, ha ha as if. Oh well at least we have a sink, a table and some blue paper towels.
Vicki arrived shortly after with a big smile on her face and looked beautiful. When we first met at the bonfire night gig at the campsite she resembled a teddy bear in a big cuddly fleece.
Vicki introduced us to her lovely friends and family who were next to Ant & Dec, we signed the guest book and then set about putting our equipment together. It wasn't long before the room began to fill up and around 100 or so guests had arrived in celebration of the big five 0.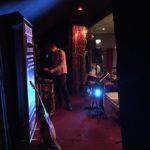 Our first set went down a storm and the younger crowd seemed to be getting into it as well. We performed a variety of songs and entertained for around an hour. After our first session Vicki took to the stage to say a few thank you's and handed out some gifts.
It turned out to be a great evening surrounded by genuinely lovely people who had come to celebrate the life of a wonderful lady. With dancing, cheering and plenty of booze and food the evening was a great success.
At the end of our second set everyone had drunk plenty of the good stuff and Ant & Dec joined us on stage with Vicki's friend dancing them around us. It was a funny moment. The wonderful encore came and how can we resist but to do one more. The venue had a strict licence though so unfortunately even though they begged us to do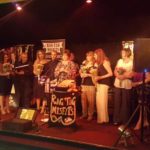 one more after the encore we were unable to oblige.
The party ended with a bang. The birthday girl and her guests were happy and Ant & Dec were still standing. Job Done.
Thank you all for a wonderful evening and for being so warm and welcoming. We were even given a doggy bag of food to take home with us. So off we left with our doggy bags and gig bags.
Happy Birthday Vicki, all the best.
If you wish to book live music for your venue, festival, wedding, event or party you can contact us HERE to check our availability