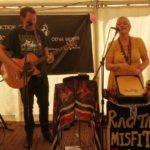 Live Music at The Junction, Rainford, Lancashire. Now in its second year the annual celebration of Oktoberfest, a homage to the German beer festival held in err…Germany was held at The Junction Pub in Rainford.
We were booked by the owner to play for an hour or so in the Marquee tent that had been setup for the weekend. Since we had a gig the evening before we were unable to perform on the Saturday so our slot was on the Sunday afternoon. A day were the VW revelers can chill out in the tent while we perform so of our more mellower songs. The main day of the event is on the Saturday. It sees a convoy of VW campers descend on the pub and camp overnight., enjoying the love music, German beer and of course Bratwurst sausages.
Our pleasant little set in the afternoon lead us gently into an impromptu set by a young star called Jake. We know Jake through the local music scene and he is very talented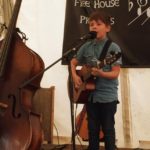 indeed. An individual who will definitely go far within his music career. Jake sings and plays guitar and has a huge voice for such a young person. It's great to see young talent like Jake performing and keeping music live. Since it was more of family day, he was later accompanied by Paul and Gel who sang a few nursery rhymes to keep the little ones entertained. I don't think I've sung and done the actions to head, shoulders, knees and toes since I was a tiddler. I've forgotten just how good the rhyme is and how confusing the song is when it speeds up.
After the sweet and smoky scents of the BBQ had proven too much to resist it was time to sample the goods. Oh and wash it down with a pint of, well, J20. So rock and roll. We started our second set with a good friend Paul (who is also the owner of the Junction) backing us on the double bass and piano. Paul also produced both of our albums and it was a pleasure to perform with him again. With us being so busy with gigs we don't get the opportunity to perform with Paul as much as we used to. It seemed like the good old days again.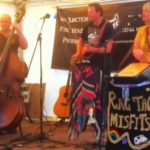 It was a pleasant afternoon and a nice gig for us. Huge thanks to all those who chilled, Paul at the Junction, Rainford for asking us to perform, to Jake for accompanying us on stage and for the little ones who were dancing..
It is probably worth noting for any budding artists or singer/songwriter that the Junction in Rainford hosts regular music nights on a Tuesdays and Fridays night starting around 9pm. Come down and play a song or three. Although do make sure you arrive early as the acts soon stack up. You can find details of The Junction here
Until next time here's to Oktoberfest and all at The Junction Pub in Rainford. It was good to be Up the Junction for another great live music event.
If you wish to book live music for your venue, festival, wedding, event or party you can contact us HERE to check our availability