Katie's 18th Birthday Party. When we do private parties we try to get an idea of how exactly how many guests are attending. The size of the venue and the age group thus giving us a good indication of what equipment we would need for the night.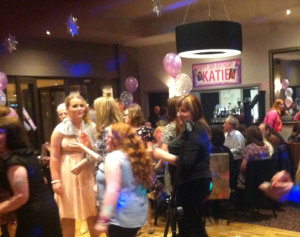 This particular gig had us surprised as we were informed the venue was quite small. We arrived and realised this was not the case. Our understanding was that only a small amount of people were coming and they wanted  a bit of live music in the background.
Katie had a lovely demeanor and is visually impaired meaning she was chaperoned about quite a bit. She seemed to have a very independent character and knew exactly what she wanted. Her mum who had organised the birthday party informed us of Katie's musical tastes. We endeavored to learn some of her favourite numbers.
We spoke to the birthday girl on the evening and told her that we had learnt some special songs for her as her mum requested. Having just learned these especially for the party it turns out she does not. She told us she used to like them but not anymore. Oh dear.
The party was a great success. Our only regret being that we wish they had booked us with the large PA rather than the pop up acoustic. It was a valuable lesson for us to use our own initiative on PA to use. Since Katie is visually impaired, we were unable to use our lighting. The main lights remained on. It felt different  performing under full lighting but the party was a great success overall.
Thank you to Katie & Carol for inviting us to perform and Happy Birthday again Katie. We received many compliments that evening from guests who had enjoyed our performance, although personally we wished we were able to be a bit louder. We finished off with a rendition of happy birthday and the evening was finished off with DJ Paul.
If you wish to book live music for your wedding, event or party you can contact us HERE to check our availability. Covering all areas.