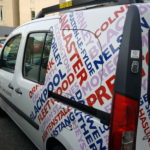 Live Music on BBC Lancashire. A couple of months ago we were contacted by BBC Radio Lancashire and asked if we'd like to perform some live music at one of their road shows. They were planning to broadcast the show at Burnley Mechanics and asked us if we could perform live on air during the breakfast show with the lovely Sally & Brett.
Obviously It was a big fat Yes. With over 200,000 regular listeners we will be there with bells on our toes (or a tambourine in my case). We would love to have the opportunity to promote our own music and update the region on our current whereabouts.
So before the sun was in the sky we hit the road to make our way to Burnley, East Lancashire. It's an impressive place once inside; being a mid 19th century grade 2 listed building and former theatre it was oozing with history and character. Now though it is a modern multipurpose venue & bistro equipped to handle a few hundred people. Artists such as Danny Baker, G4 and Soul Legends are currently advertising on the line up.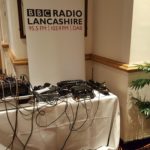 As we entered we were met by  a cheery Chris who we have met before. A wonderful man; in fact no he is a sound man and does a great job of the technical side of things. He strives to perfect the sound  for the live artists and the station, he's a credit to the industry and the BBC.
As Sally & Bret were broadcasting live we had to creep about a bit on our tip toes with our fingers and arms stretched out as far as possible. Imagine how a pheasant would walk if it were in human form.
As the station played some music we said our Hellos and chatted about the schedule for the morning. We discussed how many songs they we would like us to do, what we would talk about and obviously the wedding and living in the van.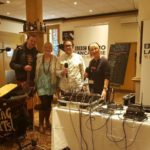 After Chris set us up we waited for the previous interviewee to finish up. We were quickly introduced and began to play our first song.
As Chris had an iDevice with him we were able to broadcast live via Facebook. A first for us, this provided our loyal fans to see how a radio show works behind the scenes. A few technicalities meant we were broadcasting live and then it broke. Ahh the joys of modern technology. Its safe to say it wasn't a server crash due to the millions of people watching our live broadcast. Unfortunately the live recording didn't have enough sound on it. It was a bit of a learning curve for us.
So as the broadcast went live we had our first interview with the lovely Sally. Chatting about the wedding, the high and the lows of planning and also about making home in the van. You never get to say everything you would like to as time is always of the essence. The interview lead us nicely into the next song.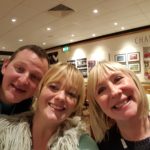 We played around 4 or 5 original songs, and on our last song we must have gone slightly over as we were been cut off. Ooops. It meant our performance lead straight into the news without any farewells from Sally & Brett. Timing on a radio show is crucial. They measure it by the second.  They insist you give them exact timings of your songs. So if you say, "Yeah it's 3.30sec long" they calculate just enough time to lead nicely into the next topic. I think I put an extra break in the last song taking it over by approximately 10 seconds. Not very professional I know but once your in the singing zone concentration occasionally slips. Lesson learnt.
Massive thanks to Sally, Brett and Chris and all at BBC Radio Lancashire and Burnley Mechanics for having the Rag Tag Misfits on the show. We are so very grateful of your ongoing support and the opportunity to showcase our story and music to the listeners across the region..
W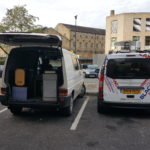 e received lots of positive comments from our listeners and have been asked to return when our next album is out in 2017.
If you wish to book live music for your venue, festival, wedding, event or party you can contact us HERE to check our availability