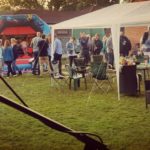 Festival Themed Birthday Parties and weddings seem to be all the rage now. Which we love as guests are relaxed and there is a great atmosphere in the air.  It is also perfect for our performance and the interactive percussion seems to go down particularly well.
A last minute enquiry for a 40th birthday party led us to the Wirral in Merseyside. We were booked to entertain the fun loving Richie & Jenny and their guests for Richie's 40th Birthday. It was a spur of the moment decision for them as they had originally planned to go to Vegas. They decided they wanted to celebrate with friends and family and opted instead for a Mini Festival style party in their back garden. On the cards was a hog roast, a bouncy castle, a lively audience and live music from us The Rag Tag Misfits.
Upon arrival we had been met by Jenny who greeted us and invited us into to meet the birthday boy. The party was well underway when we arrived. They had a lovely large garden with a gazebo prepared just for us. We carried our equipment over to the gazebo and began to setup. With around 80 guests including lots of children the party was the perfect size for the garden they had. It amazes me how many friends people have. I suppose it shows the genuine and kind nature of the people who book us.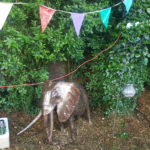 The atmosphere was full of energy and the bouncy castle was being put to good use by children who were no doubt jumping out the sugar rushes from the sweets. It makes me laugh how much energy children have. They bounce and they bounce then jump off for a quick slurp of drink. Red faced and sweaty they then head back for another session of bouncing.
If only adults had the same amount of energy and if only exercise for adults was so much fun. Instead we get treadmills and step machines. But to be honest kids are flexible. I recently tried to do a forward roll and nearly broke my neck. I can't remember it being that difficult when I was 10. Andy also tried to do one and ending up being wedged in the corner of the room against a table. He was stuck upside down for quite a while making strange noises. I think he underestimated the length of his body. I had to control my laughter before I could help. On a bright note we learnt to leave the gymnastics for the professionals and children. Gymnastics is not our call in life so we'll stick to the music.
We began to play and the the rain held off as we played the afternoon away into some beautiful evening sunshine. There is always the risk of rain in the UK. It can make planning a party or wedding outside quite nerve wrecking. It can make or break the party. With this party though I'm sure if the rain did start people would be mud sliding and dancing in the rain.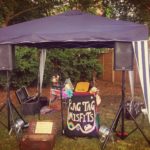 Our first set went down really well and the interactive percussion was going down a treat. The children flew off the bouncy castle to see what all the noise was about. Our box of percussion instruments were emptied out quicker than a cat dodging bath time.
The age group for the party was a complete mixture. Our audience ranged from grandparents to toddlers so it was important to play a mixed bag of music. We even played postman pat which went down particularly well.
Jenny a wonderful host made sure that we had been well catered for with drinks and offered us to help ourselves to the big roast during our break. So as we broke for some refreshments we chatted to Richie and Jenny and posed for photographs with a large printed picture frame. It was a lovely idea as it would enable them to get party snaps of everyone at the party.
They realised half way through the party they had run out of glasses. So the paper cups left over from a 1st Birthday party came to the rescue. A drink is a drink at the end of the day. It was quite comical though seeing grown men walking around with pink 1st birthday cups with ladybirds on.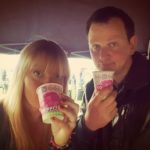 It started to turn into more of a festival feel when Richie and Jenny realised that for some reason their garden had became to flooded. Unsure of the exact cause of the flood the party carried on regardless. It looked as though a pipe had burst which is a whole lot better than raw sewerage at your feet. A troop of guests fetched wood and mats to place on top of the flooded ground. Nothing was going to stop the vibe and whats a party without a few muddy feet.
Richie , Jenny and their guests were really friendly and made us part of the celebrations. Back stage for a musician you can sometimes feel a little bit like a spare part since you don't know anyone. Its always a bonus when your introduced to people and made to feel welcome. We usually try to mingle with people so we can understand the vibe on the streets so to speak. Its so important to know how to read an audience. It helps to interact and connect, so it makes for a good show.
After 30 minutes or so we went back on and performed some more live music for the party. Once again we received a warm reception. The audience were fantastic. The grown ups and children enjoying every song and our percussion box was still empty with every instrument utilised. We ended on a receptive audience clapping intently and it seemed an encore was on the cards. So we obliged. Who can resist an audience who chant "one more song". Its when you've had a five song encore and explained this really is the last one that you have to stop. After all we needed to top up our drinks in our pink cups.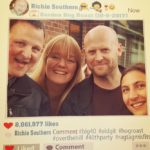 Thank you so much for asking us to be part of your day. Jenny and Richie you were fantastic and organised a brilliant party. You have a wonderful family and a great bunch of friends. We wish you all the best for your birthday; a true celebration of life.
We received a lovely review from Richie following the party:
"Opted for a last minute mini festival for my 40th and managed to book these guys in at short notice. Unbelievable performance and song choice which couldn't have gone any better. We haven't stopped talking about Rag Tag Misfits all day!!! The perfect choice. 100% be recommending for future gigs/parties" (Richie Southern – Birthday Party)
If you wish to book live music for your venue, festival, event or party you can contact us HERE to check our availability