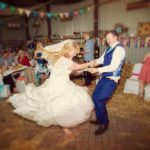 This weekend was a fantastic opportunity to perform at Wychwood Festival, Cheltenham, Gloucestershire. Whats better is our paper anniversary fell on the  same weekend and this was the perfect place to celebrate.  We have been married for a whole year and our newly wed phase has reached its first milestone. The timing of the festival was quite ironic as The Levellers were also performing. The Levellers are a very special band to us and we used one of their songs "The Road" for our first dance 12 months ago. This song pretty much sums our life up and I suggest if you've not heard it get onto YouTube and find it. In fact here's a link to the very song . The weird thing is our first dance exactly was not only 12 months to the day, but to the exact hour when the Levellers were due to be on stage.
We arrived at Wychwood Festival which is based at Cheltenham Race Cousrse in our trusty van Scooby.  Wychwood Festival is an annual event and it was our first time in attendance. A quick glance at previous lineups revealed a plethora of bands.  We reported in at the information point, collected our wristbands and festival programme and headed off to the camping area. Looking at the programme there were plenty of bands to choose from and it looked like the perfect weekend to celebrate our first year anniversary.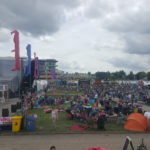 Our first impressions of the campsite was, well very hilly. Everyone who was camped up seemed to have levellers for their vans (no pun intended). There were stewards guiding people to available spots and he parked us on a hill. Now this is a complete nightmare for us. We've slept in the van on unlevel ground and never again. It really is no fun to wake up with with all of your bodily fluids in your head or feet. Due to the blood being dis proportioned throughout your body in the morning you end up resembling a Smurf with a hangover.
So we spoke to the steward and told him about our predicament. He told us a few smurfs walking around the festival could be quite a good look. I explained that our Smurf costumes were at the dry cleaners and he assisted us by helping us find a flat (ish) spot.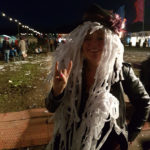 All camped up, cider cracked open we headed down to the festival to check out the buzz. The festival is not far from the camping and we could hear the music clearly from our van, the bass enticing us to head towards the madness. This year we had the pleasure of  OMD, Billy Bragg, Beans on Toast, Buzzcocks, Dohl Foundation and many, many more. With our a highlight headlining slot on the Sunday evening With The Levellers.
There was a host of international acts on the main stage, the acoustic tent, the big top, the comedy stage and the hobgoblin stage the festival was a great experience. With a great selection of stalls, activities and workshops (I can say I can now weave with willow). We used our handmade willow magic wands to mostly hit each other with or to point in the direction of where we would head next.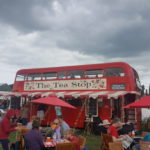 Since we were there for the whole weekend we were able to see the festival for what it was and all it had to offer. I must mention one of the stewards and his hat. He was brilliant and we had lots of hat conversations. At some point during the festival someone had attached a peg to my coat. I later found it and attached it to my hat. This particular steward had an array of items attached to his hat. Cue the hat conversations.
In the centre of the festival was a big red double decker bus. Selling crumpets, cakes and hot drinks. We took the opportunity to dine on the top deck and enjoy the view of the festival. Crumpets are the best culinary experience on this earth (comes close to pancakes). They go with almost everything from cheesy beans to Nutella. It is a staple part of our diet at home so we indulged in some with a fantastic view. With science exhibitions, painting, an interactive musical centre peice, craft making, workshops, a comedy tent, and much more the festival really did have something to offer everyone.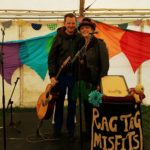 Our performance was on Sunday  lunchtime in the acoustic tent on an open stage. We introduced ourselves to the host who was very friendly and we met some fantastic people who were brilliant musicians. We love moments like these as its a perfect example of meeting people and making friends through music. They were so welcoming and encouraging. They gave us details of other events that we should apply for (of which we shall pursue). The marquee was pretty busy and it was a laid back type of affair. We're happy to say that our performance brought people in wanderers from outside who could hear the music. It was very relaxed and family orientated. We love these type of crowds and they are perfect for what we do. Overall a good performance in a beautiful location.
By the time Sunday night came we waited with trepidation for The Levellers to appear on stage. We were right at the front and were a short distance from the band. The Levellers performed a blistering set and sounded fantastic. They were connected with the audience even joking that they had a school run the next day. They mentioned  to make sure to cast the tight vote in the upcoming snap election which was mentioned several times by performers throughout the festival.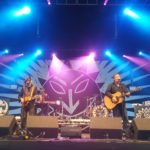 I must say it was the best performance I have ever seen by The Levellers (and we've been to many of their gigs). Lead singer Mark Chadwick was on fine form fronting the band. The energy was unreal. Then it came, our song "The Road". At this point my eyes filled and a year to the day, to the exact hour we had our first dance again. It was magical.  The performance finished with an explosion of  streamers flying out over the audience. It was brilliant they closed the festival in style. When the band had finished I took the opportunity to use the streamers as dreadlocks and we At th and they all seemed to enjoy playing. ,
It as a wonderful weekend. Thank you to all the organisers at Wychwood Festival for making this one of the best music festivals we've ever attended. Keep up the good work, keep music live and keep on rocking on.
If you wish to book live music for your venue, festival, event or party you can contact us HERE to check our availability