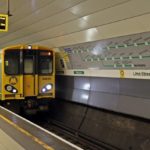 Live Music at Lime Street Station, Liverpool. Merseytravel operates a hectic and crucial schedule of train, bus & ferry services within Merseyside. Due to a large sandstone wall falling on to the track and collapsing, the Wirral Line service was closed for a few months. Regular train commuters became too well familiar with the replacement bus service. Luckily no one was injured during the wall collapse. Also no trains were involved in any accidents. As work carried out to rebuild the wall they were eventually able to open up this crucial service. With the closure of this popular service disrupted on the Wirral Line, Merseytravel wanted to thank commuters for their patience in a way of a small celebration. We were contacted to help celebrate the reopening of the line on the first day of the week.
It was an early gig, sorry I should say a very early gig. Our arrival time at Lime Street was 6.30pm with a performance time of 7am. Rising early and rubbing our eyes, we allowed an hour to travel into Liverpool (we knew traffic and parking may hold us up). When we arrived at Lime Street we could not see any signs of celebration. After a bit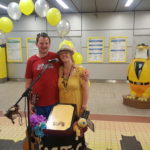 of detective work and asking blank faced operatives did they know anything about it. We soon realised we were to perform on the lower level of Lime Street. Down the escalators we went.
I must mention at this point the skill involved travelling down escalators with a cart full of equipment. Bungee straps are a life saver. You have to time and balance the whole procedure just right. It's also wise to wait until no one is in front of you especially on a descending escalator. I usually leave it to Andy as I'm well aware of my lack of coordination. Put it this way I could never be a cat. I'm more of a dog. The memories of a body covered in nettle stings and rashes from when I was a child trying to balance on a fence still haunts me. That moment when I fell I knew I would never be a cat. More like a cat with no whiskers.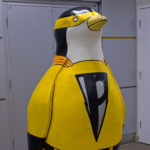 After we navigated the escalators we headed down the tunnel to our performance location. We passed a busker on the way who looked like he had been sleeping there all night. He gave us a sturdy look as we passed him with our equipment. This was obviously his spot and it was well guarded. It reminded me of the scene from Harry Potter were the three headed dog called "Fluffy" was guarding the Philosophers Stone. This guy was far from Fluffy so we decided not to play our music to hypnotise him.
Once we arrived (far away from Fluffy) we were met by a yellow penguin and some silver and yellow balloons. Three lovely ladies were preparing to set up with trays of cupcakes. The exceedingly delicious cakes had little Merseyrail rice paper logos on. It was a very thoughtful way of Merseyrail to thank commuters with a bit of live music and a cup cake to start off their day.  As we setup and started playing some music the commuters started to come through.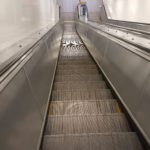 Relieved to have had their travel times cut in half they began to flock into the city centre with glee (and a cake). With good vibrations flowing from the outset it was a perfect celebration to start of the week. Most of the commuters took a cake and gave us a smile as they scurried through in a hurry to get to work on time.
It was funny with some commuters though as they suspiciously looked as if to say what is this going to cost me? The ladies had to explain several times that the cakes were free and it was a celebration of reopening the service. Sometimes you can't even give things away. It's an eye opener to anyone who is not used to giving things out on the street. Some people can be a bit grumpy (especially in the morning) and a tad suspicious but the smiles and the friendly appreciation far outweighed the "bah humbugs".
The once extremely popular service started off slow since it was the first day opening. Not everyone who once used the service   realised it was open. The dedicated few who trusted the information given to them through Merseytravel advertising had paid off. A good few hundred people had gone through the station in around an hour and half. The live music and cakes were well received.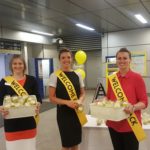 We said our goodbyes to the penguin and the staff and headed off past "Fluffy" and back up the escalators (delicious cakes in hand). Thank you Merseytravel for asking us to play for this celebration. It was a pleasure to be involved and thank you to all the staff who looked after us.
If you wish to book live music for your venue, festival, event, wedding or party you can contact us HERE to check our availability