Live Music in Wilmslow, Cheshire. A familiar town though a new venue for us this week. Tonight we are at the Carters Arms a stones throw from our regular outing at the King's Arms. A recommendation from one of the punters at the King's Arms had mentioned us to new owners Anna & Mikey about live music. They contacted us and we secured. Sent some posters across and awaited for our debut at the pub.
Arriving an hour before we had been scheduled to play the first thing we noticed was the big chalk sign " Rag Tag Misfits" almost done in our font. It was quite impressive. It was a big sign and we'll presented, you couldn't miss it. There's nothing more frustrating than a venue who doesn't take advantage of passing traffic with free advertising or those who don't display the posters and then wonder why the pub is empty. This was not the case tonight and it seems the owners realised the importance of advertising.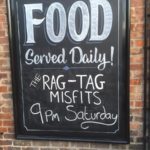 The ample parking round the back found us a space to park so we unloaded the gear and walked in. Our first impression was it was a young crowd with a group of lads talking at the bar. We had been introduced to one of the owners who showed us where to setup and asked if we needed anything. We noticed that the Carters Arms had a terrace where a few people had been enjoying the evening sunshine.
Working out the best way to setup on a slight angle we faced the terrace outside and sound checked the equipment. Its always slightly awkward when you go into a pub and there are punters sat where you need to be. On some occasions people just remain where they are seated as if there life depends on it.  Its strange the way there are different types of people, some with foresight, some without. Short of sticking a speaker next to their eardrum you have to eventually politely ask them to move.
At previous gigs we have had the odd shall we say awkward punter who totally ignores us when we are trying to setup and then huffs and puffs as they try to scramble through your equipment to reach the bar. The tutting is the best. It actually makes me laugh when this rarely happens. Its hard to believe that someone would tut and give you the second class citizen attitude. I mean its not as if they are coming to a pub to enjoy some FREE live music, what could they possibly gain from that? You have to keep it professional though, ignore the comments because they are very rare. But they do happen. If your new to the world of entertainment it can be very discouraging.
The best one is "what type of stuff do ya do?", we reply "oh a bit of this and a bit of that". Their response "thats sh*t, do you do any such and such?" (which is usually the most obscure music ever known to man). You just smile sweetly and tell them you'll check the song out. Which we usually do, because if its a good one we will go away and learn it. Another one is "do you do requests?" Our reply "if we know it, we'll play it" and when we don't know it they offer to get the lyrics on their phone for you. They tell you "go on, if your a good musician you should be able to do it". My oh my oh my, give me strength.
One thing is you'll always get one who wants to put you down and try to push your boundaries. Don't let them get to you because 99% of people are good and will try to encourage you. Banter in an audience is great but insult is not. The more wound up you get the more these bullies can thrive, so for the love of music stay calm and as they say carry on.
Anyway, back on subject. None of this occurred at tonight's gig as its a great little venue with friendly punters. The pub was still serving Pieminster Pies before 9pm so a few folks had come in for a late meal. Pieminster pies rock, so if you haven't tried one I highly recommend you do.
We weren't sure how the night would unfold at first as we had been unfamiliar with the pub. The live music venture had been a new enterprise though initial reports from the staff had found it had been going well. So at 9pm we played to the loudly chatting group at the bar and the folks outside  on the terrace. The first set was being fairly well received. They were enjoying it but for most of the punters this was a starting point to a night out so they wouldn't be hanging round.
It is at this point  were the night can go two ways. The first is the pub empties out completely or more people come in later on. We are glad to report that the latter happened. As the younger audience dissipated into the night a new clientele emerged in the form of couples and people who had already been out for a good few hours, Yes the inebriated happy chappies looking for a party. An audience to work with is fantastic as it helps the rest of the pub to become involved.
It was in the second half that the pub really started to get going. With our new audience members asking for some classic Rolling Stones and Bluesey numbers our job of entertaining became much easier. By the end of the night our music brought people in from the terrace. It attracted passers by and even had the bar staff dancing away behind the bar. They were enjoying it that much they asked us to play half an hour extra. It turned out to be a great night for us and the Carters Arms. So we secured a further 2 bookings before Christmas for another couple of nights of shenanigans.
Thanks to all at The Carters Arms for having us and supporting live music, until next time.
If you wish to book live music for your festival, wedding, event or party you can contact us HERE to check our availability