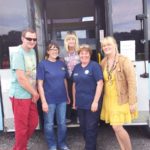 Live Music Southport. High Park Project. Following a performance in Southport a lovely lady called Rachel approached us. Rachel explained that she works in partnership with Sefton Council and she was looking for ideas for their local initiative project. Its called "The High Park Project" The idea behind the project is to encourage children to utilise public parks. To encourage them to be more active in the great outdoors rather than playing on their computers inside. It is a sad state of affairs that see most parks unused and under valued. Especially in the summer months. This new initiative was stated I believe last year by Rachel.
Sefton Council who utilise a bus for kids to come and hop on board. Crafts, fruit and water are provided and parents can relax while their children are free to use the facilities. Free bike repair services, rounders, tennis and football coaches come to setup a match to encourage people to get involved.
Our role in this great outdoors initiative would be to provide entertainment to the young children, parents and patrons of the park by creating a fun filled atmosphere. Rachel booked us in for 5 sessions throughout the summer holidays.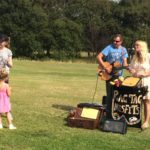 On our first en devour to High Park we were in the nucleus of our wedding preparations and came along to play. Setting up the Pop up acoustic in the park meant we could perform anywhere we were asked as we don't need electricity. We set up next to the fun bus and waited briefly to see what would unfold. Speaking to the lovely Sue who runs and drives the bus she mentioned that the programme attracted only around 10 kids last year. Therefore each time with the more activities involved and the live music, the more popular it became.  Throughout the sessions the event entertained approx 90 bodies each time, so the initiative was working. The park was full of happy children and parents basking in the sunshine, complete with picnics and sun cream.
We provided shakers and percussion instruments to involve the children. Some of the children had never witnessed live music so didn't quite know what to make of it. We explained to the children about the guitar and cajon and gave them a little go to encourage them. On a few occasions they told their parents they wanted a cajon for Christmas which is fantastic to see, but the look on the parents faces was a picture. The thought of a 7 year old banging on a box is bound to cause some issues with the neighbours.
High Park is a great project and its wonderful to see so many children enjoying thermselves in the outdoors as they should be. It was free for all to attend and over the weeks grew in popularity. Well done to the organisers for making a change in their local community. Rachel and Sue worked really hard to get this thing off the ground and we can see your hard work paid off.
If you wish to book live music for your festival, wedding, event or party you can contact us HERE to check our availability