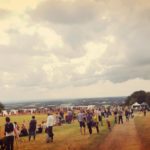 The Beacon Fell Festival; situated in a beautiful country park in Skelmeradale, Lancashire is an annual event over two days. Throughout the day there are family activities including Viking Battle Role-play, Falconry, Live Music, a selection of stalls and various food and drink vendors. There is plenty to do for the whole family and its an event worth attending. Nestled in a 75 acre site of cycle paths and walkways getting into the festival proved quite easy. It was very organised. Just follow the signs and look out for the rangers (and any free range children).
Once we arrived we were directed by the HI VIS jacket crew who told us to park wherever you could find a space. We needed to be situated quite close with the equipment and noticed some mud on the ground. Just by looking the ground didn't seem that wet. We spotted some gravel to park on but as we tried to get around the cars we lost traction and the front wheels started to spin. The more we tried to move, the worse it became. I jumped out in my sandals and my feet went into a pile of mud in the soggy ground. Great, just great.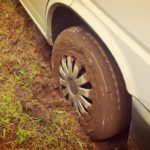 Since we were due on stage in less than an hour we decided to go and find the organiser of music. The wonderful George and his beautiful wife Maureen. We unloaded the gear and sludged our way through the soggy ground. By the time we arrived at the marquee my feet looked like I'd been paddling in the porta-loos. The strap then decided to come away from my sandal so they started flapping away as I walked. It was like conundrum after conundrum. I was half expecting Jeremy Beadle to jump out from behind the bushes and say "Watch Out Beadles About".
We found George who as well as being a fantastic musician drives a bloody great big tractor.  Sadly on this occasion, understandably George didn't have his tractor with him ( I don't think a tractor would be very practical for gigs). The rangers on the park did however have a robust Land Rover invented for predicaments such as this. They came to our rescue and with a few tugs we were home and dry. Armed with baby wipes to clean my feet and gaffer tape to fix my sandal we headed back to the marquee.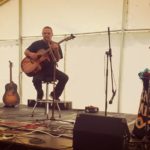 It wasn't long before the live music started a people started to sit down and watch the live music, first up was Midnight Tim who started the afternoon off with some lovely acoustic music. As I think you may have worked out this isn't his real name. He was crowned this name due to an open mic at The Junction in Rainford. Everytime he turns up his name is so far down the list he never plays before midnight. Hence the Midnight Tim.
Next up was George from Georges Big Shed (who actually owns a big shed, well more like a barn as practice rooms). I think most people on the local circuit have been in there at least once in their life. George is a brilliant musician and also a fantastic sound engineer. His music reminds me a bit of Seasick Steve with a moody texture and dirty bass riffs. After a short interval it was our turn to play to the crowd. It was a chilled out yet appreciative crowd and people enjoyed the live music as they had lunch and a beer or two. We sold quite a few CDs after our first performance and caught up with familiar faces. Andy then grabbed his favourite delight a pulled pork sandwich from one of the stalls.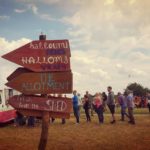 The afternoon was finished off by some more live music from Midnight Tim and we cracked on with our second set. We needed to head off straight after our second set as we needed to be in Bedford that evening for a gig tomorrow morning. As the sun went down over the lowlands you got a glimmer of the sea in the background. We said our goodbyes and hit the road.
Thank you George (for giving us a great sound) and Maureen for booking us and also for being so lovely. Massive, huge and enormous thanks to the rangers at Beacon Fell Festival for pulling us out of the mud. You really did save our skin. Also a big thanks to our audience for your appreciation and support. Next year we will check the grass before we drive on. Lesson learnt. Oh yeah and thanks to the essential gaffer tape for saving my sandals.
If you wish to book live music for your venue, festival, event, wedding or party you can contact us HERE to check our availability