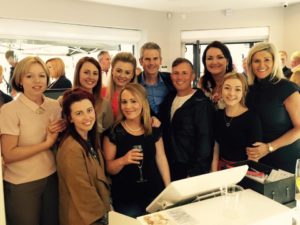 Today we are in the market Town of Ormskirk. A new shop opening its doors to the public. Biagio a trendy jewellery boutique offering the hottest trends in jewellery. With a fantastic range featuring Swarovski, Thomas Sabo and Vivienne Westwood Watches.
It is a common appearance across many towns in this country of boarded up shop windows and To Let signs. Although when I was younger I thought To Let signs were toilet signs but that's a different story. Many of the traditional businesses that used to flourish can no longer support the costs comparative with those of an online shop.
The degradation of town centres and decline of retail brands across the whole country have been contributed to a lack of funding and improvement projects enticing new business back into town centres.
We travel, gig and busk almost every day meaning we have first hand experience witnessing the decline. New out of town industrial estates and indoor shopping complexes are popping up all over the place meaning town centres have taken a bit of a battering.
We originally received the gig enquiry when we were spotted doing a bit of busking in the town. Due to this we were approached by the owner Sean and he invited us to perform outside his new shop for launch night. When we arrived to setup a fair few people where coming in. They were having a mooch at what was on offer. With wine and bubbly on offer it was a classy affair.  A classic van outside equipped with a bar. Gazebos were ready for our outdoor performance. It was looking to be perfect. Well it would have been even better if it hadn't have been lashing down with rain.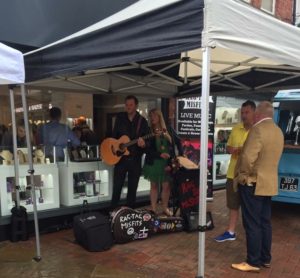 With everyone arriving we started to play outside the shop window. We sampled some beer from the van. It's fair to say that the opening night was a great success even though the weather wasn't playing ball.
The shop was filled full of people chatting and eating snack bites. It was a great start to what will hopefully be a much needed boost for the town of Ormskirk.
As the rain fell we tried to stay as dry as possible. We played to people approaching the shop and those popping outside for some fresh air. Thanks to the wind and rain though every five minutes I would unexpectedly have a cold rush of water sent down my back.
The heavy rain was persistently collecting at the top of the gazebo. Consequently sudden gushes randomly coming through the back.  It was cold and we were shall we say rather damp.
Our job was done. We entertained the crowd for a few hours before evacuating Ormskirk under our umbrellas. Thanks for booking us Sean & Steve. Most of all good luck with your ventures and we hope you do well with it in the future.
If you wish to book live music for your wedding, event or party you can contact us HERE to check our availability.