This week it was the prestigious Grand National event in Aintree, Liverpool. This sporting event is held over three days and sees thousands of people at Aintree Race Course for a glass of Crabbies and a quick flutter.

Our part in the event is situated at Liverpool Central Station. Our job is to entertain the crowds on their way back from Aintree. These three days of madness and delight began on Thursday. As we setup up inside the train station with approval and many thanks to the staff at Merseyrail for allowing us to play.
We began to play as the crowds from The Grand National came in off the train on their journey through the station. The idea is to create a non violent atmosphere as they pass us into the city centre. It's always a great ambiance with all the frolicking about from the crowds dancing to the music as they stroll past. It's amazing what things people give us. Train tickets, flip flops, umbrellas, hats and binoculars.
The first day of the Grand National is usually the quietest and  gathers pace with ladies day until it peaks on the Saturday, being race day attracts the largest crowds and the most chaotic for us in terms of people passing by.
On the Saturday we had a gig for the Royal Navy on Brunswick Docks before we had to head on up to central station. It was a late morning gig for the Royal Navy reservists and featured a full pig being carved up on site for dinner.
We had met the catering crew before. He informed us that he has made his own hog roasting machine. He knows how to cook the meat to perfection. Great texture and tender meat. After filling up on pork sandwiches we played some music for the guests. The day for reservists to let their hair down. They bring family along to meet the staff. It is a casual affair.
We always enjoy playing for the Navy and it is always a pleasant and welcoming atmosphere.
After we had finished our set we had to walk our gear to the lift and back into the cat park not having much time left to be at the station. The lift at the Brunswick Dock resrve has a habit of closing very quickly. This makes it very challenging but also very funny. It reminds me of the till from "Open all Hours".
Luckily as we were doing this the Grand National had been rescheduled due to reasons unknown. Therefore the main race would commence later in the afternoon. This consequently gave us enough time to get to the station and setup. It was all go but we managed to get their on time.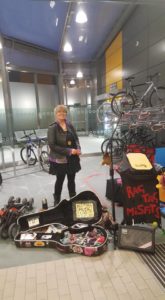 Once we reached Liverpool Central we parked up in the staff car park ( always handy). We then setup in time for the crowds coming through. Today was main race day and we were expecting large crowds and plenty of madness.
It wasn't long before we heard the sound of the train approaching. A strong breeze comes through the station and bang the crowds came through en masse. Singing and jeering to the music, there were many, many magical moments. It was a great night with many things seemingly happening at once.
In one instance a man decided he needed to sing Squeeze Box by the Who. So we joined in with him and him with us. We had a jam with an bloke on a harmonica and also performed a song with one of Merseyrails very own singing train station staff member. Her voice is beautiful and definitely turned a few heads. We had the station in uproar on many occasions.
It was Liverpool at its finest with a great atmosphere and a night filled with banter and happy friendly tipsy folk throwing a coin or two in the case. You can watch a small clip of our busking session here:
Our thanks go out to the Merseyrail staff for looking after us these last three nights see you again next year.
HAVING A PARTY?
If you wish to book live music for your wedding, event or party you can contact us HERE to check our availability.