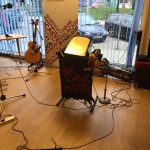 BBC Lancashire is today's destination and our morning began very early (for a musician anyway with a 6am wakeup call). Our debut on the show consisted of a live audience that is advertised on iplayer called BBC Tickets. The premise being that you book online. You then turn up and watch live music whilst the show is broadcast and is open to the general public.
We found ourselves being advertised in the same space as Jools Holland which looked quite impressive. So we set off for Blackburn and left a good 2 hours to get there in time. We allowed for rush hour traffic of all the busy bees trying to find their honey pot. We arrived at approximately 8.30am with lots of time to spare to setup, sound check and fill in some disclaimer forms.
We met Chris the engineer who had looked after us previously when we performed live in Mawdesley and The Woolpack in Burscough. Being on the morning show with Sally & Brett is great. They are a lovely bunch and have a great charisma about them. With a good following on the show of about 100k people tuning in each day on average.
Once we had filled in our forms with Chris we endeavoured to set our equipment up for a sound check. Chris is very meticulous when it comes to live sound and likes to get it spot on using the right equipment, microphones, quality leads and good positioning. Within 15 minutes we were setup  just as the audience started to arrive. The audience had been in for an early morning treat. Not only do they get to be part of the show, a very special guest had been booked in to come on the show for a chat, not to mention live music.
It was turning out to be a fully packed show as it turned out. Prince Harry was visiting the flood areas surround the borough near Warton Barracks and the BBC had coverage of that to get through. It all had to run like clockwork even to the point of asking us exactly how long each song would be to the exact second.
Just as we were about to play our first song live on air the special guest arrived. This was in the form of a lovely lady called Heather Small of M people. So as she moved on up the room we searched for the hero inside ourselves and plucked up the courage to perform. "No pressure" said Sally. Our first song "Tired Eyes" which was written for ladies across the nation who are feeling the stress and realities of life went down rather well. The audience responded well with a rapturous applause, it was then over to Heather for the interview.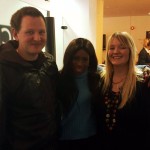 Before we mention how touching her words were I must say how beautiful Heather is in both mind and body. She looks amazing. Speaking candidly of her experience within the music Industry and music itself she gave a frank and insightful view on what it's like to have been signed to a record label, be dropped and make it big again.
It was great listening to her story and her words of wisdom were priceless. We found her to be so encouraging and true. Not only to succeeding in the music business but to stay honest to your roots, passion and talent. Her words touched us as we could relate to what she was saying with regards to perfectionism and difficulties you come across. After all were just trying to make a living and help others doing something we love, however we can.
Sadly she wasn't going to sing on this session but had promised to come back with her band Snake & Paul Birchall. They apparently play for various contemporary artists such as Gary Barlow. Heather is also touring across the UK this year so we recommend you check out her shows. Not that Heather needs the advertisement but check out her page with her up and coming shows and videos here.
Our next song was Three Steps Forward a song about slowly progressing in life and we managed to keep it together. It was a decent sound in the monitors and that helps you to hear yourself and what you're playing. Thanks to Chris the wonderful sound technician and producer.
Afterwards we had a small interview with Sally who asked us a few questions about the upcoming wedding  and us working so closely together. They had said that they feel like they've adopted us. They seem keen on promoting us as they has done before with us living in the van for a year. The show had been broken up into some coverage of the royal visit, Heather Small being interviewed and also some live music from us.
We played all original stuff on the show and the next two songs "Get By" and "Gypsy Girl" had been well received. We sold a few CD's to audience members who also asked us to sign the copies for him and his wife (totally rock and roll ha ha). We would like to thank Sally & Bret, Chris and Suzie Blyth for getting is in touch with BBC Lancashire. They have been very supportive and we thoroughly enjoy the show. Thanks again to Heather Small for your words of wisdom, here's to Moving on Up in life.
If you wish to book live music for your festival, wedding, event or party you can contact us HERE to check our availability