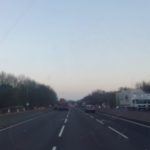 Love Bedford Live Music – Love Bedford is a name given to The Business Improvement District in Bedford. They organise events and aim to create a fun and safe environment for customers and businesses with the goal to improve trade and the overall shopping experience. We were approached by The Bedford Bluecaps who patrol the town when we were busking in the summer when we were en route to France. They took a card for any future events they may have. A few months later they contacted us with a date on the run up to Christmas.
So when the time came we jumped in the van and left for Bedford, it's a fair journey, nearly 4 hours and I'm happy to say we hit hardly any traffic. We decided to book a travel lodge for the night. We knew it would be pretty cold and it is somewhere to warm our bones up after an outdoor performance on a winter's night.
When we were a few miles away we decided to phone the shopping centre to ask about parking. We spoke to a lovely lady who told us could park in VIP car park and security would greet us. When we arrived we were given a special pass. The lovely man on security took our equipment (on the pushchair) down the ramp and met us downstairs. We didn't have to carry or push anything to setup. They are so friendly and helpful.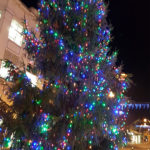 The lovely lady we spoke to on the phone showed us were to perform. In the middle of the town centre next to the beautifully sparkling Christmas tree. Since we anticipated traffic on the way to Bedford and didn't hit any we arrived a couple of hours early. We suggested that if no one else is performing we can set up and just play extra through to our scheduled finish time. They were more than happy with this as it meant more live entertainment.
So, the stage was set. The Christmas Tree was shining in all its glory, the town was fairly busy given the time, with market stalls offering an array of goods and Jack frost was here. Let's play.
As we began to play the warmth we had from the van began to diminish and the cold started to work its way in to our bones. It was a cold, cold night. With the steam of our breaths covering the microphone our flask of coffee was certainly appreciated. When you're playing instruments it gets your fingers and your toes. If there's a Costa, Nero or Starbucks nearby you may find us in the toilet warming our hands. We're sorry to say we are the ones that cause the queues.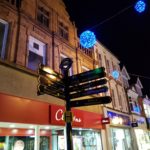 Nevertheless it was Christmas and we had lots of Christmas songs to play. We have played in the cold many, many times and we can do this. It builds up our immune systems and keeps us well. Its when an icy wind and rain kicks in that it becomes unbearable. Luckily the sky was calm tonight and the stars were out.
It was quite busy at first and the man off the sweet stall in particular was really appreciating our music. Cheering and clapping. People were passing by and getting into the swing of things. They were dancing and singing and giving us lovely compliments. It really did bring a nice atmosphere to the town. With the market stalls still out people were meandering down the streets enjoying the atmosphere.
After a couple of hours the market stall holders packed up and Bedford town seemed to turn into a ghost town. They had obviously had enough for the day. People decided to leave and it became eerily quiet. At one point all that was left was a few stray cats & a couple of estranged people. The atmosphere changed instantly. The sound of our music echoed through the empty streets. As one of the shops locked up, the alarm started ringing.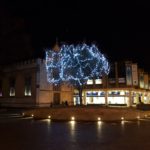 To be honest we felt quite vulnerable. Thankfully the lovely blue caps were doing their rounds and walked passed us a few times assuring us that they were within distance.
Then it started coming in dribs and drabs. It did pick up, I mean there were swathes of people about and then it would go remotely quiet again and vice versa. A man later approached us and had a meaningful conversation about music being the universal language. Interesting guy. Himself relating to his native Indian people and the music he grew up with. We agreed and couldn't have said it better ourselves. Music is enjoyed throughout the world and can be appreciated by all the people all despite creed and colour. It can stir all emotions and it is understood by everyone. He told he was thoroughly enjoying our performance and stopped to listen for a while.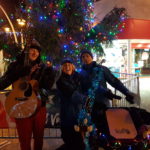 We were booked to perform for an hour and a half and ended up playing earlier than scheduled, staying for about 3 hours. We wanted to give Bedford as much as we could and entertain till the end. I'm not going to lie. We did freeze and became like living statues with icicles hanging off our faces. Luckily someone came with a blow torch and unfroze us.
You know what though? It was worth it. We would love to return and hope to work with Bedford BID again. Bedford town is a lovely place and the people are so friendly. Live music in towns and cities creates a vibrance.  Children especially love it and it's not an unusual occurrence of bored boyfriends or husbands to sit and watch whilst their partners hit the shops.
We love the fact that companies like Love Bedford are working hard to try and make our towns and cities a better place. Seriously without Business Improvement Districts towns would become permanent ghost towns; day and night. Its not something Joe Public would often think about, but we've seen the decline and also improvements over the last few years in various towns and cities throughout the UK.
We have performed for Christmas celebrations many times outside. In a town like Bedford I can definitely see the potential for busy late night Christmas shopping. I think the live music brought people through the town and I believe the couple of market stalls stayed a little later because of this. By the time we left though most of the shops were closed.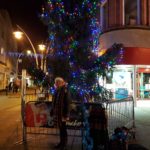 My solution if I were the queen (I reckon a crown would suit me) would be to have a separate late night Christmas market every week in the build up to Christmas. Light switch on is a perfect time to advertise this and create a buzz. If all the stalls are there at light switch on and the shops are open; surely people will return the week after. Especially knowing the market will be on and if parking is free. People don't necessarily come to shop at Christmas Markets they come for the experience and do a bit of impulse buying when they are there.
With stalls selling Christmas goodies; things you can't enjoy on the internet. Stalls offering hot chestnuts, hot chocolate, an array of warm food, homemade goods and of course live music; all the things a Christmas market should be about. I think there has to be quite a selection of things going on to attract people and markets are brilliant for this. I remember performing in Birmingham one year and we couldn't believe how busy it was at such a late hour. I know its a huge city with a large population but in smaller towns numbers are usually relative to the town size. Anyway I'm not an expert at all on marketing, so all opinions are my own and are not that of well… anyone else.
We would like to say a great big whopping thank you to everyone at Bedford BID and The Harpur Centre we certainly did Love Bedford. Thank you so much for booking us, supporting live music and realising its importance to create an atmosphere and bring life to the streets. Also a massive thanks to the blue caps for looking after us and making us feel safe (and for being as mad as a box of monkeys) and last but not least the lovely people of Bedford for your kind words and encouragement.
Hopefully we'll see you again in the New Year. In the meantime have a wonderful Christmas and a fandabbadoozy New Year.
If you wish to book live music for your venue, festival, wedding, event or party you can contact us HERE to check our availability