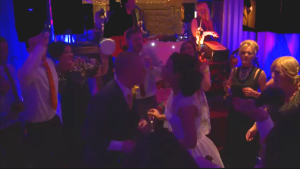 Hard Days Night Hotel Liverpool
Live Music – Wedding. Today was the wedding of a lovely couple Anthony & Lydia. On the bustling streets of Liverpool we were due to perform at the Hard Days Night Hotel in Liverpool.
It's a upmarket venue and is perfectly located and sized to accommodate a wedding. The main theme obviously being the Beatles. Anthony and Lydia definitely wanted live music incorporated into their big day. We arrived early as loading the gear in places like this is done in such a way to minimise disruption. To enter the Hard Days Night Hotel is quite tricky. Through the service lift at the back, through the kitchen, down a hallway and into the main function room. Since we were performing alongside a DJ the couple had opted for the large PA.
We setup as the evening entertainment was about to start. During weddings at venues such as this timings are crucial. You have a set amount of time to setup and do a sound check whilst the room is being changed over. Anthony & Lydia had live music throughout the day with the lovely Miss Daisy performing earlier on.
We did a version of "Ho Hey" by The Lumineers. The crowd went wild. The bride and groom were on the dance floor jumping and dancing around. When we finished the song we received a rapturous applause. As a result the beautiful bride shouted "again, again".  Lydia obviously wanted to make the most of the moment. We don't usually repeat songs so I asked the crowd and in particularly the bride "you want us to do it again?" they screamed "yeahhh" so I relied well "its your day and what you want you get" so we repeated the song and we brought the house down. Their was so much energy at this wedding and everyone was up for a party. The dance floor was filled throughout the whole performance and our music was received very well. It was a great gig and the newly married couple were having a ball.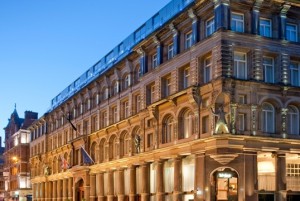 As we packed up Karl the DJ was starting to bang out dance music on his decks and continued to keep this party crowd on the dance floor. Big thanks to Anthony & Lydia and congratulations on your marriage; we hope you have a long and happy life together.
Now it was time to take our equipment through the dance floor, down the corridor, through the kitchen and up the service lift without causing any disturbance and we can happily say that's exactly what we did. Performance complete, minimum fuss with maximum impact; happy days.
Venue – Hard Days Night, Liverpool
Music – Rag Tag Misfits, Miss Daisy & Karl (DJ)
Photography – Love Gets Sweeter
If you wish to book live music for your wedding, event or party you can contact us HERE to check our availability.