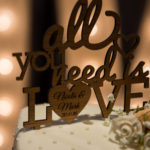 Tonight's venue was the famous Hard Days Night Hotel right in the heart of Liverpool. Today was the wedding of the lovely Mark & Nic Browne. A beautiful venue for a beautiful couple with bespoke rooms, fine dining and a whole host of Beatles memorabilia. Its an upmarket hotel fully licensed for weddings so you can tie the knot and party later on in the day/evening all under one roof. Its like Toys R Us but the wedding version.
Following a previous performance Mark asked us to perform at his wedding the year before and learn a special song as a surprise for his unsuspecting bride. Mark is a big music lover and knew exactly the type of atmosphere he wanted to create on the day.
Mark chose a great selection of songs from our set list but the main song he wanted us to learn was Better Man by Paolo Nutini. The song itself is so meaningful and we can see the reason for his choice. However we had never heard the song before so the challenge was set. Luckily Mark gave us plenty of notice to learn and practice the song. We practiced it relentlessly
until we had it worthy enough to play at a wedding.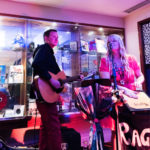 A few days before the wedding we met with the wedding coordinator in Liverpool at The Hard Days Night to seek out where they would be gathering after the ceremony. We have performed at The Hard Days night before but in a different location within the hotel. We wanted to make sure our performance was in the right location for the guests to make the most out of the live music. Stacked full of old Beatles records and newspaper clippings it grabs your attention for an up close look. Its a music lovers haven. Judging by the size of the room we opted for the pop up acoustic session so the live music would be effective but not too intruding.
The day of the wedding arrived at the Hard Days Night. The hotel has a loading door and lift that is quite handy to throw the gear in. Then move the van to a nearby car park causing no disruption to the guests of the hotel. The only problem is; its quite a challenge transporting the equipment through the maze of corridors behind the scenes at The Hard Days Night. The staff were so helpful though and provided us with a trolley meaning we were able to do it in one journey.
Once we unpacked the gear we began to setup. All the tables had been decorated beautifully. Just as we finished setting up Mark came down to greet us. Dressed to impress in his wedding suit looking very dapper indeed. It was moments before he was due to tie the knot to his beloved partner Nic and he had made the time to come and say hi.  So wishing him well, a little nervous perhaps and excited he left.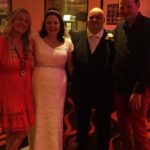 Its always wonderful to meet the groom before the ceremony as they have a little sparkle in their eyes. Knowing that all the careful  preparation and planning has come to the most important part of the event. The moment were they pronounce their love forever. We are so blessed  to play a part in weddings and to help make memories last forever.
Behind the scenes the whole day has to run as smoothly as possible and to witness the teamwork between hotel staff and the organisation of the event is fascinating. Everyone one has their place and it takes a good organised team to make sure things run like clockwork. The Hard Days Night really has this covered. They were so welcoming and told us they loved live music. There was a lovely vibe in the air, everyone was busy yet stress was minimal. Staff were happy.
We have performed at lots of weddings and there's nothing worse than a wedding coordinator or manager shouting and being sarcastic with its team members. It can create an air of negativity. I'm happy to say that the atmosphere at The Hard Days Night on that day was nothing but positive.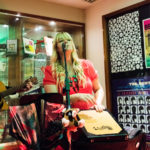 After a while the guests started to arrive and awaited the bride and groom. At this point its usually customary to entertain the guests whilst they await the grand entrance. As predicted a while later the couple entered to which a rapturous applause was made to welcome the newly weds into the room. Nic looked stunning. Her dress was beautiful. It was the first time we had spoke to her as Mark had organised the live music. Nic is so chilled out and you could see they were perfect for one another. They are a couple of genuine kind hearted souls.
It was a fairly relaxed wedding with around 80 or so guests. With friends and family to entertain, a few children (and adults) had been jamming along to the music and joining in using the percussion instruments we brought along, it was great fun.
As the newly married couple had been chatting to their guests for a while we decided it was now time to play the special song. Calling them to the front and asking everyone to gather round whilst we played Better Man by Paolo Nutini. This was a surprise song that Mark had asked us to learn for his bride. I must point out at this moment all cameras are on and from a performers point of view its quite nerve wrecking. Since Mark had asked us to learn this song we were hoping that the version would meet his expectations.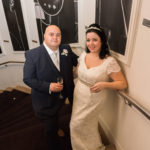 The response was brilliant and emotions were high. Nic started to shed a tear and its so hard not to get choked up when your performing a song with so much meaning. Her reaction literally gave me goosebumps. So I had to slip on my stage face and try to detach myself from the situation. A blubbering mess of a singer is never a good look.  The sentiment Mark wanted to create was a winner and it was a priceless moment.
We continued to perform the rest of our set to Mark & Nics lovely friends and family who continued to jam along with us before they were called in for the meal.
So onwards and upwards, to Mr & Mrs Browne. Thank you so much for asking us to perform for your big day. We hope you have a lovely honeymoon and continue to have a long and fruitful life together. May an abundance of blessings and happiness be poured down on you both.
If you wish to book live music for your festival, wedding, event or party you can contact us HERE to check our availability