Live Music Warrington at Golden Square – During the month of December the inclement weather can take its toll on the hardiest of buskers, rain, wind, chill, cold weather and very numb fingers and toes can really test your endurance.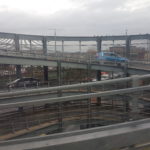 So when the opportunity arises to perform indoors we gladly accept. Such is the case with Golden Square, an indoor shopping centre in the heart of Warrington. After a busking spot in Warrington last year we contacted to enquire if they ever allow buskers to perform in their complex. The lady I spoke to told us this is something they were thinking of trialing over the festive season. Live music and choirs will create an extra special Christmas shopping experience. This was our second year performing At Golden Square in Warrington.
Reaching Golden Square in Warrington takes you up a narrow spiral column (similer to a skelter for vehicles) and into the multi storey car park. From the car park its a short ride down a slide (I wish) it's in a lift really to reach the shopping complex.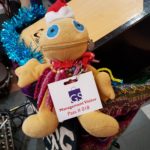 They erect barriers for groups who were booked in to perform. Apparently it was to do with Elf and Safety (if you get my Christmas pun). So once we had visually seen where to setup we decided to name it our own little play den. It was quite good really as no one could approach you from behind and scare the living daylights out of you (as they have in the past). We checked in at the office and Tweeter and Zippy were able to have their very own VIP badges.
Throughout the festive period you may be lucky enough to see Father Christmas. Every hour he travels around the complex on a big sleigh with his elves. It's a lovely touch as he comes gliding past with the Christmas music waving at the children. We have to stop our set for 10 minutes as he passes, but no problem I'm probably enjoying it as much as the children. He then parks his sleigh and there's an opportunity for photos and a meet and greet for everyone. It really is magical and adds to the Christmas sparkle at Golden Square.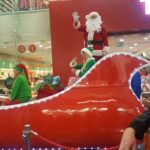 We quickly settled in and joked to each other how delightfully windy and cold it was. To be honest it was a blessing as it was freezing outside. It was a relief to get away from the cold weather and opt for a more tropical environment. The acoustics were sounding great. Being indoors and surrounded by glass we didn't need to be loud. The music was bouncing around making for a big sound as we played through the afternoon.
You see we treat music as our job. We try to put in as many hours in as we can. Although circumstances can change this e.g. the weather, council job worth's or an abundance of buskers. So sometimes it's like turning up to work and not being able to put a shift in. It can be frustrating at times but these are circumstances that can't be helped and we've learnt to adjust to them.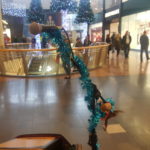 We busk throughout the week and gig of a weekend. Busking helps the gigs find us instead of having to chase them. It's a way of promotion. I'd say 99% of our gigs are as a result of busking or through word of mouth following a performance.
Although a lot of the population listen to recorded artists there are still lots of people who thrive from live music. The perspective of buskers and street entertainment is changing and people are starting to understand that we are not begging but we are working. If people appreciate the music they throw some money in the case if they are able. We are providing a service to everyone especially to those who love live music.
Children are the best. Since most children rarely have the opportunity to see live music (as they are usually tucked away in bed) it absolutely fascinates them. Sure they hear it on the radio and the internet, but the look on their faces when they see us performing lights up the room. It gives them an understanding of where music comes from. They can see that music is produced using instruments of some kind and is not simply made through a flick of a button on a computer or phone.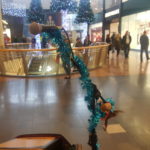 So next time you see a street musician you are enjoying, stop for a moment and let your children watch. You don't need to put money in if you don't have any, it's a show for all to enjoy. Please don't be one of those parents who simply drag their child off screaming when they stop and stare. They are being inquisitive and its perfectly natural. Let them enjoy the moment. It's good for them and believe me the music can be a pause button for tears or tantrums.
Music is a universal language most children can understand and has happened many times before. The right choice of songs can help babies sleep, toddlers dry their tears, teenagers dance and adults smile. Please appreciate it while you can and realise the importance of it in our society.
Going back to our Golden Square experience our sets here comprised of one or two hour slots given to us by management. This is quite a short set for us as we like to move around and busk for a minimum of four hours. Its good practice and the longer we are performing the more people are able to see us.
Thank you to all at Golden Square for supporting live music and to all those who danced, sung, cheered and clapped. We love what we do and we couldn't do it without you.
MERRY CHRISTMAS
If you wish to book live music for your venue, festival, wedding, event or party you can contact us HERE to check our availability