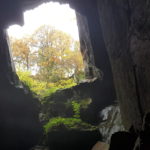 Tonight we are at Skelwith Fold Caravan Park. Continuing on from a successful gig at The Eagleshead and a very comfy night's sleep (courtesy of the lovely Arthur and Dahnell), it was time to go down the road to Skelwith Caravan Park. Since our gig at Skelwith is in the evening we had most of the afternoon to explore. We have visited the Lake District many times and even resided here at one point. We searched for a place we had never been to. With a little help from Google we descended on a little place called Cathedral Cave situated in Little Langdale.
The small network of inter-linked quarries above Little Langdale provide a great walk and insight into the inner workings of the former mine. The various caves network far under the rock above and its main chamber. It stands forty feet in height and is lit by two windows off the main quarry. It was a beautiful place to visit and interesting to explore. The acoustics in the main chamber are fantastic and would be perfect for a gig or recording. I couldn't resist a good "tra la la" while I was in there.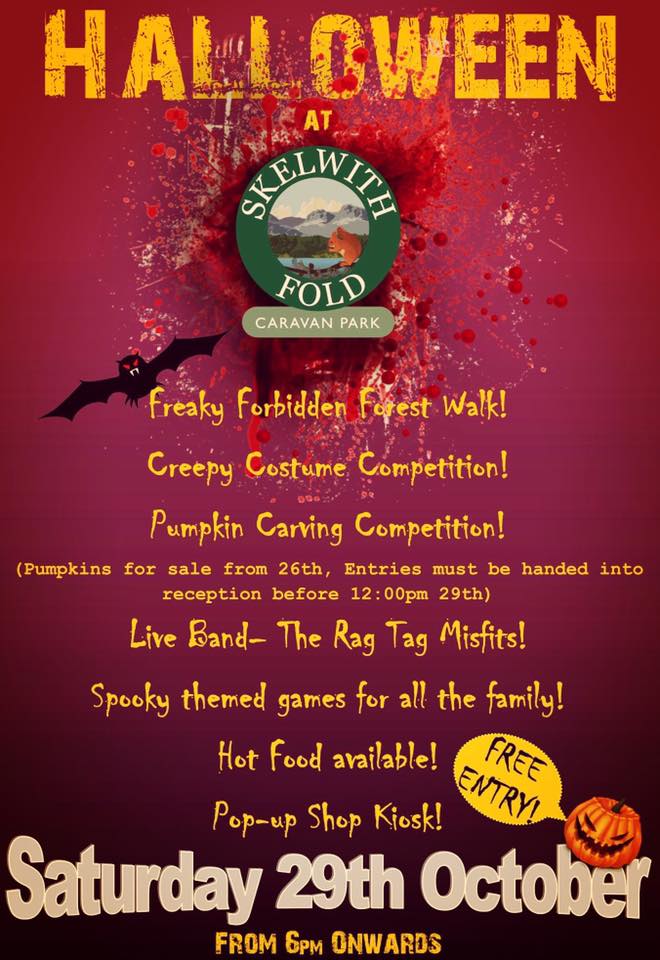 Finishing off our little adventure at Cathedral Cave we started Scooby (our van) up and searched for a food stop and dressing room. We spotted a perfect little place just off an A road in a cave like entrance. We parked up and cooked our tea on the stove in the back of the van and slipped into Halloween costume number 2. A pussy cat.
It's quite funny when you're eating a meal in the front of the van, knife and fork in hand and a cuppa steaming up the windows. You get some really funny looks, particularly from the German car drivers, (usually the ones with the bikes on the back). I'm sure they are saying "Helga look, vot a great idea zat is".
Feeling refreshed with full tummies we drove a few miles down the road to Skelwith Fold. On entrance we were told to follow the buggy up the hill to the Marquee. There has to be a song in there somewhere about following a buggy. The staff at Skelwith Fold always look after us and are very friendly.
When we reached the Marquee area we noticed the food stalls already setup and immediately noticed the lovely aroma of the burger van. The organisers had erected a special marquee just for us and it was equipped with sides and a hard standing. Protected from the elements in our own little VIP tent. Whoop whoop.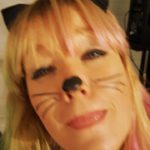 We parked right next to our performance area which made setting up a breeze as we unloaded our gear. Just as we finished setting up we were offered a burger, on the house, umm….Having just eaten, one of us at least couldn't refuse. Just a bit more energy to dance off later then. Andy can't resist a burger, but they make me burp and burger burping and singing don't mix too well. Especially if your sharing a microphone ha ha.
A while later we were informed that the Halloween event consisted of the organisers taking the families through the back of the campsite into the forest. The organisers were calling it the haunted wood walk, where spooky objects were placed in trees. They were maimed and tormented with ghoulish and spooky noises. To enhance this effect we aimed the speakers at the forest and played some deeply disturbing yet friendly haunting sounds that we had streamed from our phones.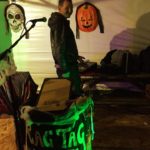 It was a bit experimental as the organiser had only just asked us if we had sound effects. The first one we played was horrendous, it sounded like people being tortured. Too late it had already pelted out across throughout Cumbria, ooops. It really was disturbing and was a bit too much. Thanks Youtube for that. So as to not scar the little ones for the rest of their lives we opted for some more pleasant sounding noises. Werewolves and creeping floorboards was a little bit less traumatic for their ears.
After a while we could see the hoards of people being guided out of the forest brandishing their costumes and face paint. It was time to do the music and get this Halloween Party started. The night saw around 200 people gather for the event. With competitions, live music and a sweet shop for the kids, there was plenty to keep them entertained. People brought their own tipple meaning everyone was in full swing.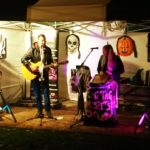 The Halloween songs we learnt went down fantastic in particular The Time Warp. They were all doing the dance and chanting "Let's do The Time Warp Again". Ghostbusters went down well also, if you can imagine a huge crowd of people screaming ghost busters it really was great moment. During our first break it was time for the competition to see who was the scariest of them all. Kids first and then over to the adults. I always feel sorry for the judges in these competitions. The children really, really want to win.
Personally I have quite a good reputation for winning fancy dress competitions. One of my proudest moments was during a camping holiday when I was a nipper. We didn't realise there was a competition on until the day. So my mum being my mum put her creative head on.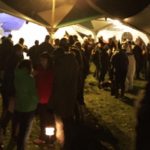 She put me in a bin bag, back combed my hair, put black on my face, stuck a load of waste items on me (like used teabags, empty crisp packets) and a sign saying "what a load of rubbish" on my back. I won first prize. So since I've had a taste of it from when I was young, I love dressing up and find any excuse to do so.
Sorry, let's get back to the gig. Once the prizes were handed out we cranked the music up and played all the classics. It was like a mini festival as revelers danced in the mud in their costumes. At the end of our set we received a magnificent applause and "one more song" "one more song". So we gave them three just for being so nice. After the last, last, last song (not a typo but a triple encore) we asked the audience to pose and smile for the camera.
As you can see from the picture it was a spooky night out. We gave a shout out to all the organisers, staff and of course our lovely audience who filled our muddy dance floor for the evening.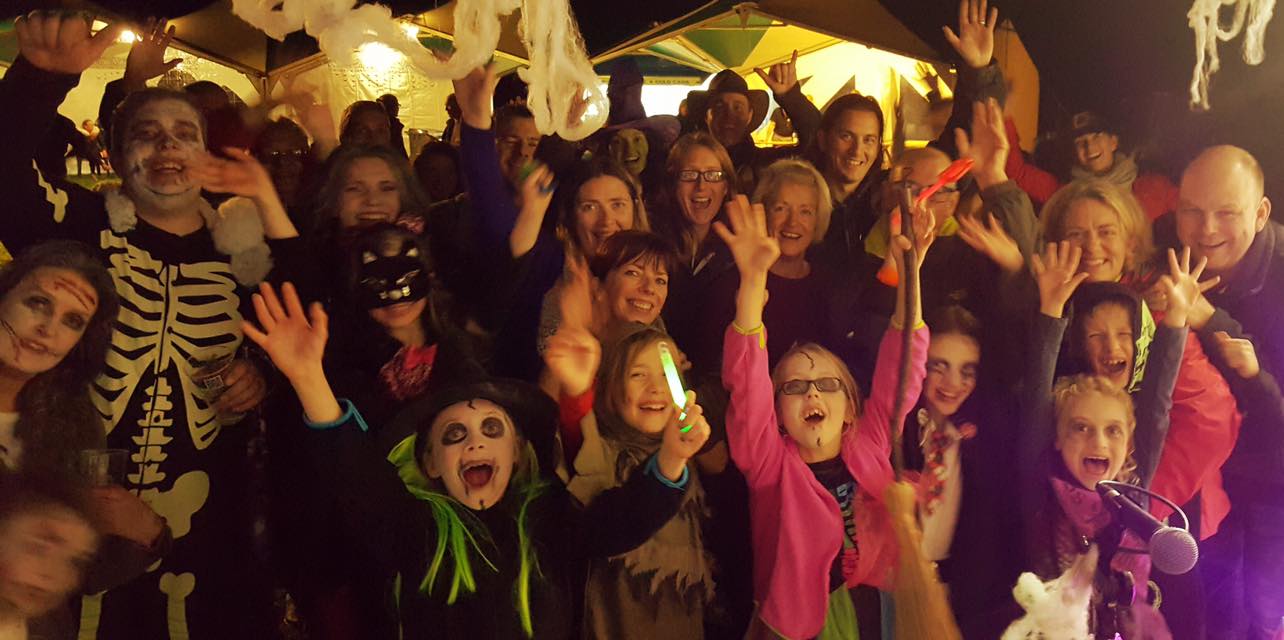 Thank you to the organisers at Skelwith Holiday Park for asking us to entertain your lovely guests, it was an absolute pleasure. Well done;  it was a fabulous success and we are looking forward to next year already.
If you wish to book live music for your venue, festival, wedding, event or party you can contact us HERE to check our availability