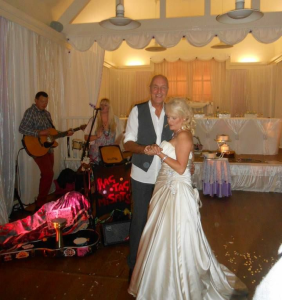 We were contacted by the lovely Steve & Amanda who were preparing for a Village Fete themed wedding in Siddlington. Live music is a huge part of Amandas life as she often hosts open mic nights out in Spain and most of her friends are musicians.
We had been told that they did want not a formal event and that the dress code was definitely no ties. When we arrived at the venue, we were blown away by how this couple had transformed a village hall into a beautiful non conventional wedding venue. With straw bales and fete games such as catch the rat and a coconut shy our music went down perfectly with the guests. Steve had arranged for an ice cream van to arrive to provide his guests with desert after their pie, chips and peas sit down meal and the ice cream bells were our cue. As a surprise Steve had arranged for a good friend of Amanda's to fly out from Spain and to perform a version of "The Boxer" by Simon & Garfunkel. Steve had asked if he could use our PA to perform and we happily obliged. Amanda's face was priceless it put the icing on the cake.
Another surprise Steve had arranged was that we perform a song for their first dance. We learnt "You Do Something to Me" by Paul Weller especially for Steve and Amanda. It went down brilliantly and the romantic element of surprise did not go unnoticed, it was apparent that Steve really wanted to make this day perfect for his beautiful bride.
The atmosphere was fantastic; we were there from early afternoon till past midnight so we were able to be a big part of this special day. It was a long gig but well worth it and to be honest time went so quick. We jammed with other musicians and had accompaniment on the bongos which we had provided and the percussion instruments were put to good use by all the guests.
Amanda and Steve are such down to earth lovely people and they celebrated their day in style. Congratulations to the happy couple who truly deserve a long and happy marriage together. Thank you for asking us to be part of your big day and we wish you all the best for the future, hopefully we'll see you in Spain at some point. As they would say in Spain "Felicitaciones. Les deseamos a ambos toda la felicidad del mundo"