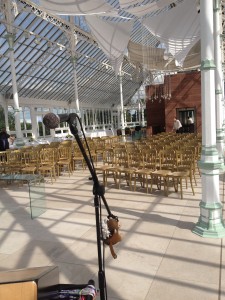 Isla Gladstone Conservatory Liverpool
Set within the beautiful gardens of Stanley Park in Liverpool is a beautiful recently renovated Victorian conservatory complete with gardens, lakes, stone pavilions and a traditional band stand called The Isla Gladstone Conservatory.
We had the pleasure to perform at a wedding for a lovely couple Iain & Carly. Our set was to be split into 3 and we performed in 3 separate locations, the couple wanted live music throughout the day using the pop up acoustic set up. Our first set was for pre-ceremony entertainment as the guests anxiously waited for the arrival of the bride. We performed a selection of ambient covers to set the mood for the bride's arrival. When the bride arrived we quickly moved and the ceremony commenced.
The sun was shining so after the ceremony the guests moved outside, the couple had originally thought they would want all our performances to take place inside, but when we suggested moving our pop up acoustic to the garden they were thrilled that we were able to do this and follow their guests around. The music was perfect for the atmosphere the couple wanted to create from the pre ceremony entertainment until the warm up entertainment to lead the happy couple into their evening function. Thank you Iain & Carly for such a beautiful day and thank you to your guests who embraced and participated in the live music. We hope you have a very long and happy marriage together.
If you wish to book wedding entertainment at Isla Gladstone Conservatory please click here for my information