Tonights gig would see us providing live music in Culcheth for a Birthday Party. One of the perks of playing live music to crowds at a gig is that sometimes the people that we played to have plans for their own private party, so we get invited to play for them.
One night at the Common Room in Culcheth exactly that happened. Victoria whose upcoming 30th birthday party would be celebrating in July asked us to come to her house and provide live music where she and a few friends would be joining in the celebrations.
As it goes it was a lovely summers night and we headed to Victoria's house in Culcheth. We accidentally stumbled across the house that was in fairly rural surroundings. We were in the process of finding the house. The Sat nav was doing its "turn around when possible". As we pulled in to a track to turn around we noticed the sign Victoria's 30th and a big arrow, a happy accident. We had the right place.
The house was beautiful and had a fairly large garden in which the party was being held. With the majority of the guests already there we setup as quickly as possible. It seemed they had been there since mid afternoon and were well on their way. We ventured over to the marquee and setup our equipment. The party was in mid swing with the outdoor speakers from the house providing background music. Further more a projector was setup illuminating pictures on to the white walls of the house. A nice touch. We also noticed a chiminea for later in the evening with chopped wood ready to be lit for toasting marshmallows.
Once we had spoken to Victoria we were offered a drink and she kindly brought them over to us. The equipment was setup and sound tested, we were ready to start playing.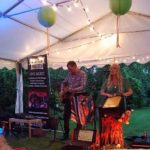 Starting our first set as friends and family began to eat we played a few casual songs to start with. Nothing over exerting, building the repertoire nicely until after everyone finished eating. It wasn't long before people were joining in with the percussion instruments we provided. Sat on the straw bales we soon had an audience with the Rag Tag Misfits. It was like a mini festival. As we finished up our first set they had been already singing along to the music so we were in good shape for the second half.
We mingled with the guests whilst we had our break. Unfortunately the day before whilst doing a gig at Grizedale a dirty burger was consumed and we suspect it was the cause of our stomach ache. Both our stomachs were in bits. But non the less the show must go on… Touching on another subject it reminded me of when Adele was performing at Glastonbury earlier in the year and she mentioned her burp on stage was due to a "Dirty Burger". This may not have been Glastonbury but we know exactly what she means. The problem is with burger vans is they smell so good, yet the minute you've eaten it, you wished you hadn't. Cider & Burgers just go so well together. I don't think we'll ever learn.
After drinking copious amounts of water to flush ourselves out it was now time for the birthday cake to be lit. The guests gathered around the cake whilst we performed happy birthday to Victoria. in the key of C as always. Then it was straight into the second set.
Half way through the set, we were getting requests for songs and one in particular. Oasis. It is actually rather common for people to request an Oasis song though we try to steer away from it. Its probably due to the fact that Wonderwall is usually the first song anyone learns to play on guitar. If it's insisted by more than one person, such a case was this it seemed they really wanted an Oasis song. So we gave them what they wanted. We haven't practiced it for years but its like riding a bike. A classic song like that will be ingrained in our memories probably till the end.
The party was already in high spirits, they had been dancing on top of the straw bales and having a good boogie to the music. We had the audience in our grip and they were loving every minute of it. All was well as a party should be.
As we finished the night off in style we had been asked to play at Victoria's wedding next year. The location would be in Italy. As it turns out it is cheaper to fly musicians over from this country than to hire them in Italy. We must be living in the wrong country. Huge thanks to Victoria and all of your friends and family for making us feel so welcome.
If you wish to book live music for your festival, wedding, event or party you can contact us HERE to check our availability