Karen contacted us to perform some live music for a birthday party in Waterloo, Liverpool. In the comfort of their own home it was a double celebration for her Mum and Dad celebrating their 75th birthdays.
Upon arriving the house was already becoming busy. The food was being prepared. We were welcomed by the lovely Karen and her partner. We setup in the front room and it was an intimate audience as everyone sat watching the gig. Karen opted for the pop-up acoustic setup. This gave us plenty of room to fit snug into the room. We put the percussion instruments out for the audience to grab.
A keen audience indeed so when the music began it wasn't long before everyone was joining in and singing along. The live music was a very special addition to the party atmosphere.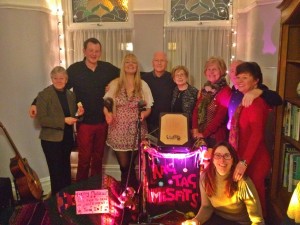 A while later Karen told us she was an actress. We had a celebrity in the house. Karen invited Oz round and asked us "Could he get up and do a few" whilst we had our break. So this was a non stop entertainment party and it was great.
Oz, better known as Ozzie Yue was in a band called The Hideaways of the Merseybeat era as well as acting in Father Ted, Coronation Street and Larry Croft Tomb Raider. After Oz finished his set we had played for another hour or so and the joint birthday party had been a really great gig.
We were having a great time with a  loving and appreciative crowd who are really into their live music. As a result Karen (hoover, marigolds and all) gave us a rendition of Freddie Mercury as we were performing Crazy Little Thing Called Love by Queen. We had further interest with regards to performing at a wedding and other private functions which is always very reassuring following a live performance.
Karen text us with this very lovely message. "A big huge thank you to both of you, brilliant absolutely brilliant gig. Fan club here now." Thank you all for making us feel so welcome and for being your lovely selves. Huge thank you for the wonderful charismatic Karen whose house party we had been booked to play at.
They also wanted to book us for New Years Eve. Unfortunately we were already booked. I can imagine New Years Eve in their house. Wow what a party that would be.
LIVE MUSIC IN A LIVING ROOM
If you wish to book live music for your wedding, event or party you can contact us HERE to check our availability. Although we are based near Liverpool, Merseyside we travel worldwide for a reasonable cost.