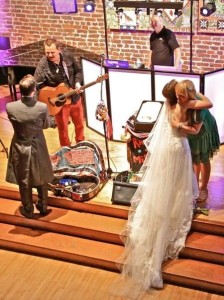 What a magical wedding and what a privilege to perform for such a lovely couple. An "Alice in Wonderland "theme was set in place and they captured it perfectly. With homemade drinking glasses (saying drink me) out of jam jars to beautiful cupcakes (saying eat me) to looking glasses and photo booths. The venue looked spectacular with homemade decorations, the sun was shining and we had a fantastic crowd to perform to. Live entertainment was a very wise decision as our audience were up for a party and then some. They joined in with percussion and the wonderful photographer Claire Penn (who we previously met at another wedding) captured every moment. Philippa and Stephen asked us to learn their first dance, a beautiful song by John Mayer called "Waiting on the Day", and they gave us plenty of notice so we had time to practice before the big day. It's such an honour to learn a first dance as there is a lot of pressure to make sure it's perfect since it's so important to the couple and everyone is filming it. We are happy to say though since it was well rehearsed we didn't get a note wrong and the newlyweds were extremely happy with our version.
All in all a wonderland was created and a wonderful time was had by all. Congratulations Philippa and Stephen on you wedding we hope you have a long, healthy and happy marriage and thank you for booking us for your entertainment.
Here's a testimonial from the lovely Philippa and Stephen:
"To get the party started for the evening entertainment, we could think of no one better than the wonderful Helly and Andy of the Rag Tag Misfits; a duo we had seen countless times in Liverpool surrounded by crowds of people drawn to the fabulous unique music and various percussion instruments! We were so happy that they were able to perform at our wedding as they were already planning to perform in all of England's counties to raise money for charity and so returned to Liverpool specifically for this day to thrill our guests with their versions of old and new songs with maracas and tambourines for everyone!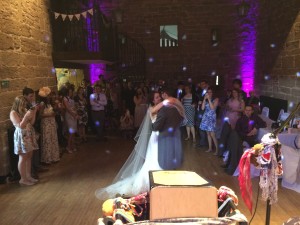 We were honoured that they also agreed to learn a very special song for our first dance as well; John Mayer's Waiting on the Day. John Mayer is our absolute favourite music artist of all times, and this song our most favourite as it is about growing old together, but we have to say, Helly sang it better"
We also found a lovely review from the DJ at Music Mix Entertainments who was there to finish the night off with a wonderful playlist of music and floor fillers.
"At the beginning of the night they also had a live band by the name of Rag-Tag Misfits – Basically an acoustic guitar a drum and that was it (A microphone of course to sing the sings) Very impressed with these guys, they brought along a load of tambourines etc. for the guests to join in with the music – great atmosphere and they also covered the first dance. If you are looking for an hours entertainment at your wedding and something a little different but really energising, then you need to book these guys"
Venue – Crosby Hall Educational Trust (CHET), Liverpool
Music – Rag Tag Misfits & DJ – Music Mix Entertainments
Photography – Claire Penn Photography