Halton Community Radio 92.3FM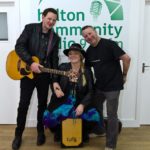 is a local radio station that has a strong focus on supporting local musicians and artists, it is promoted by the lovely Tony Higginson from Beyond Books Media. Every Sunday Tony features an artist, with a live session and an interview.
Halton Community Radio is situated just over the Runcorn Bridge in err.. well Halton. It is far from easy to find and is nestled behind some gates underneath the trees. We have been here before. Therefore you would think that we would find it. No, once again we drove past it and heard the frequent voice of the sat nav "turn around when possible".
Tony has interviewed us once before and he is always keen to promote independent artists. He's a rare gem in the music industry. One that doesn't think about what he will gain from helping you out and in this business it is rare. I could write a whole blog on how people will take advantage of you and your music and the hidden motives behind it.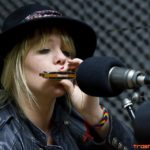 With Tony what you see is what you get. He's an inspiration and a fantastic radio presenter. His questions flow with ease and there are no "oh shit how do I answer that?" questions. His approach means he brings the best out in people with no awkward moments. A kind and humble soul who absolutely loves undiscovered music. You can tune in to the show on 92.3Fm and is also available should you miss it via Mixcloud at Beyond Books Media.
In addition joining us tonight on the show was the very talented Ian Percival from Trash Monkey Photography. Our stint on the show lasted for around an hour and a half.  We chatted about our new EP coming out this year and the joys of recording and performance. We promoted our up and coming gigs we have booked in. It  is easy to talk to Tony and the time just flew by. We played some new material from our new EP that is yet to be released. Tony also requested an Ella Fitzgerald cover for his mum, of course we obliged.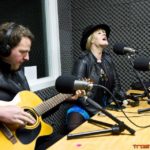 It was a pleasure to be invited along to HCR and we thoroughly enjoyed talking to Tony about our latest developments. Please if you can support the station and local artists from the Merseyside area, please tune in or listen back to Beyond Books Media and support your local music scene.
Thanks for having us Tony and also huge thanks to Ian for the fantastic photographs.
If you wish to book live music for your venue, festival, event or party you can contact us HERE to check our availability